Quinoa avocado salmon salad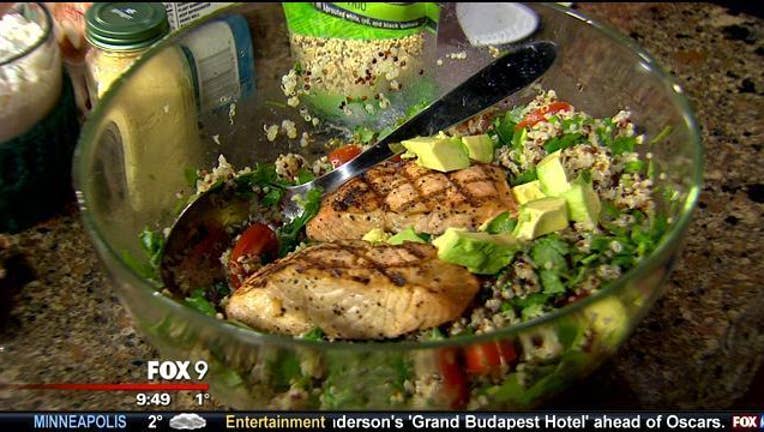 article
Quinoa Avocado Salmon Salad
by Christina Meyer-Jax, registered dietician 
-2/3 cup quinoa
-2 ?lets salmon
-1 pint grape tomatoes
-1/4 cup cilantro
-1/2 bunch scallions
-1/2 red onion
-2 limes
-1 tablespoon apple cider vinegar
-1 avocado
-2 tablespoons olive oil
-1 cup water
-kosher salt
-black pepper
Directions
1. Cook Quinoa
Rinse quinoa under cold water using a mesh strainer. Place quinoa, 1 cup water, and a pinch salt in a medium pot over high heat. Bring to a boil, then reduce heat to low and simmer until water has evaporated and quinoa is tender, about 10 minutes. Remove pot from heat, cover, and set aside.
2. Sear salmon
Rinse salmon and pat dry with paper towel. Season on both sides with salt and pepper. Heat 1 tablespoon olive oil in a medium nonstick pan over medium heat. When oil is shimmering, add salmon. Sear until browned on outside and slightly opaque, about 5 minutes per side.
3. Prepare ingredients
Meanwhile, wash tomatoes, cilantro, and scallions. Halve tomatoes and fine chop cilantro and scallions. Peel red onion and mince.
4. Prepare quinoa salad
Juice 1½ limes into a large bowl. Add halved tomatoes, chopped cilantro and scallions, minced onion, 1 tablespoon olive oil, and apple cider vinegar. Toss to combine. Stir in cooked quinoa. Taste and add salt and pepper as needed.
5. Prepare avocado
Halve avocado and discard pit. Using a spoon, carefully scoop out ?esh and discard skin. Cut into thin slices. Squeeze over remaining half lime and season with salt and pepper.
6. Plate salad
Flake salmon with a fork. Divide quinoa evenly between two bowls. Top with avocado and salmon and serve.