Vikings release DB Jeff Gladney after indictment for felony assault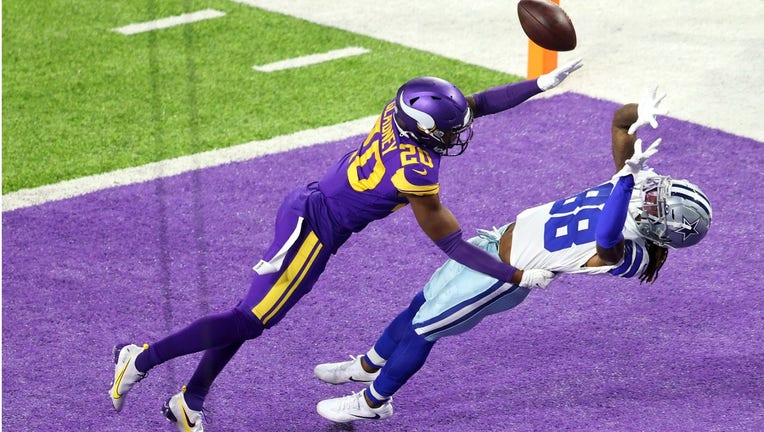 MINNEAPOLIS - The Minnesota Vikings announced on Tuesday they have released defensive back Jeff Gladney after he was indicted for felony assault.
Gladney, a first round pick at No. 31 overall in 2020, turned himself into authorities in Texas back in April after he was accused of assaulting his girlfriend over text messages. He posted bond and was released within minutes.
On Tuesday, a Texas grand jury indicted Gladney on one felony count of domestic assault. According to court documents, he's charged with "domestic violence by impeding breathing, for intentionally, knowingly recklessly causing bodily injury and applying pressure to a woman's neck and throat." He's also accused of dragging the woman by her hair, and striking her multiple times in an incident over text messages.
If he's convicted of the charge, Gladney faces up to 10 years in prison.
Gladney did not participate in any offseason workouts with the Vikings, and has not been at TCO Performance Center since the Vikings started training camp last week.
The team released a statement on the situation Tuesday afternoon.
"Following our review of today's indictment against Jeff Gladney, we have decided to release Jeff immediately. As we have previously said, we take these matters very seriously and condemn all forms of domestic violence. Due to the ongoing legal nature of this matter, we are unable to provide further comment."
According to a civil lawsuit filed by the victim in the case, she accused Gladney of assaulting her for more than two hours in his truck. He also attempted to "bribe, manipulate and threaten" the woman to remain silent about the incident.
Vikings owner Mark Wilf was asked about Gladney's status with the Vikings Tuesday morning, before the news of his indictment became official and before the team released him. 
"Obviously allegations like these are very disturbing and something that's concerning to us as ownership and to our organization," Wilf said.
In a statement given to Ian Rapoport with the NFL Network, Gladney's agent, Brian Overstreet, came to Gladney's defense.
"It's a good thing that innocent until proven guilty still exists in this country. Unfortunately, the Vikings don't view it the same way. Today, Jeff was indicted which is simply a normal step in the judicial process. It means the case is going to trial and nothing more. It does not speak to his guilt or innocence," Overstreet said. "We received information that the complaining witness in this case came forward and requested the case not be prosecuted. The Vikings did what they thought was best for their organization which we respect, but we still strongly believe in Jeff Gladney's innocence. We look forward to his day in court so that he can clear his name. At this time, out of respect for the legal process and all parties involved, Jeff and his representatives will have no further comments."
Gladney started 15 games last season as a rookie, making 81 tackles with seven tackles for a loss, one quarterback hit, three passes defended and one forced fumble. But the writing was on the wall that his time with the Vikings might be over after his arrest. The Vikings opted in free agency to add Patrick Peterson, Bashaud Breeland, Mackensie Alexander and Xavier Woods.
With Gladney out of the organization, the Vikings' defensive backs for Week 1 are likely to be Peterson, Breeland, Alexander, Kris Boyd, Harrison Hand and Cameron Dantzler, who is in his second season with Minnesota.
With Gladney's release, he now becomes an unrestricted free agent. If he is signed by another team, he is subject to a suspension by the NFL for violating the league's personal conduct policy.