Timberwolves' star Anthony Edwards calls out teams for 'load management'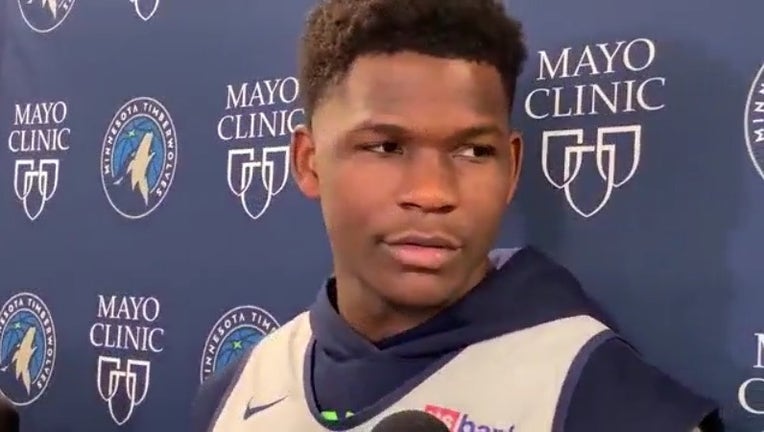 article
MINNEAPOLIS (FOX 9) - NBA All-Star Weekend is over, and the Minnesota Timberwolves made their mark in a few ways on the game's national stage.
Before any basketball even happened, players got a chance to talk with media covering the event. Timberwolves' guard Anthony Edwards was the team's lone representative, after Stephen Curry and Zion Williamson couldn't play due to injury.
Edwards, who has started every game this season and leads Minnesota in scoring, was asked about "load management" as teams rest their star players on certain nights to make sure they're ready for key games and towards the playoffs. Edwards isn't a fan.
"If there's anything I could change anything about the league to make it better, probably just all the guys sitting in resting. That's the only thing I probably don't like. Just play, man. If you 80%, you've got to play. I don't like all the sitting, missing games. These people might have enough money to come to one game, you know what I'm saying. That might be the game they come to and you sitting out? I'm trying to take pride in playing every game," Edwards said. "It might be one fan that has never seen me play, and I'm trying to play. That's the only thing I don't like, guys just sitting out."
LeBron James is a fan of Edwards. He took the Timberwolves' star with his first pick in the pregame player draft. Edwards went onto score 12 points on 6-of-8 shooting from the field, grabbed four rebounds, had four dunks and one assist in 17 minutes. Not a bad night for his first All-Star Game.
Also part of All-Star Weekend was the NBA G-League's "Next Up" Game. Timberwolves forward Luka Garza, a former Iowa star, had 23 points and eight rebounds on the way to earning MVP honors.
Garza has played in 22 games for the Timberwolves this season, and had a career-high 25 points on Feb. 8 in a win at Utah, the same night the team traded D'Angelo Russell and acquired Mike Conley Jr.
The Timberwolves come out of the NBA All-Star break 31-30, eighth in the Western Conference with 21 regular season games to play and host the Charlotte Hornets Friday night.