Timberwolves beat Nets to lock up spot in NBA Play-In Tournament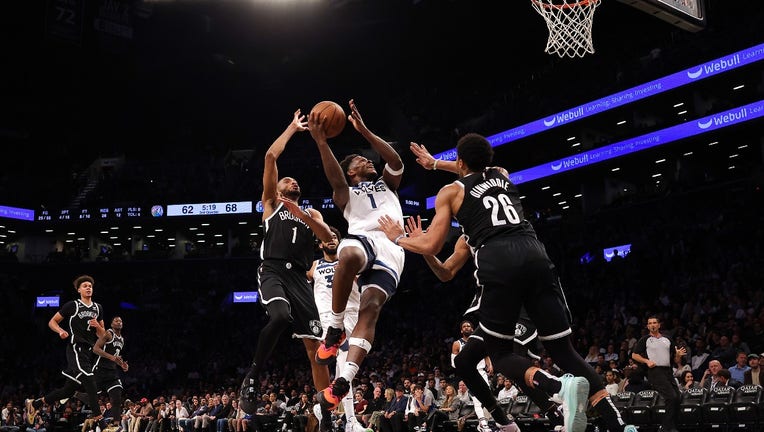 article
MINNEAPOLIS (FOX 9) - The Minnesota Timberwolves have had big wins and embarrassing losses this season, and they now know they will at least play more than 82 games.
The Timberwolves went to Brooklyn and beat the Nets 107-102 Tuesday night to get back to .500 on the season at 40-40. They bounced back from arguably their worst loss of the season Sunday, falling to a Portland Trail Blazers team playing without at least five regulars.
Three days after taking just three shots, Karl-Anthony Towns scored 22 points on 8-of-15 shooting from the field and added 14 rebounds. Rudy Gobert had 12 points and 12 rebounds.
Tuesday night's win over the Nets has the Timberwolves in the No. 9 spot in the West, and with the necessary tiebreakers in place, Minnesota is now guaranteed a spot in the NBA's Play-In Tournament. With two games to play, the Timberwolves need to do everything they can to move up to the No. 7 or 8 spot in the West.
That could be tough to do, as they're 1.5 games behind the No. 7 L.A. Lakers. But they're just a half game behind the New Orleans Pelicans, and happen to host the Pelicans on Easter Sunday at Target Center. The Lakers play Phoenix Friday, and Utah Sunday. The Pelicans face the Memphis Grizzlies Wednesday night, and the New York Knicks Friday before coming to Minnesota on Sunday.
The Timberwolves are at San Antonio Saturday afternoon before coming home. It's been a whirlwind few weeks, where every game feels season-changing, win or lose.
"Listen, every win right now feels like two, every loss feels like three. It's just crazy," Finch said Tuesday night. "But we had a real tough and bad loss the other night, but we've been able to kind of forget about those things and move on and not have it snowball on us."
If the Timberwolves can't get to the No. 6 spot after 82 games, it's imperative they get to either the No. 7 or 8 spot, which would mean they need just one win to be the No. 7 seed for the Western Conference Playoffs. If the NBA's play-in tournament started today, The Timberwolves would host the Oklahoma City Thunder in the 9-10 game. The loser's season would be over. The winner would then face the loser of Lakers/Pelicans to determine the No. 8 seed.