Vikings TE Irv Smith Jr. having knee surgery, status for season uncertain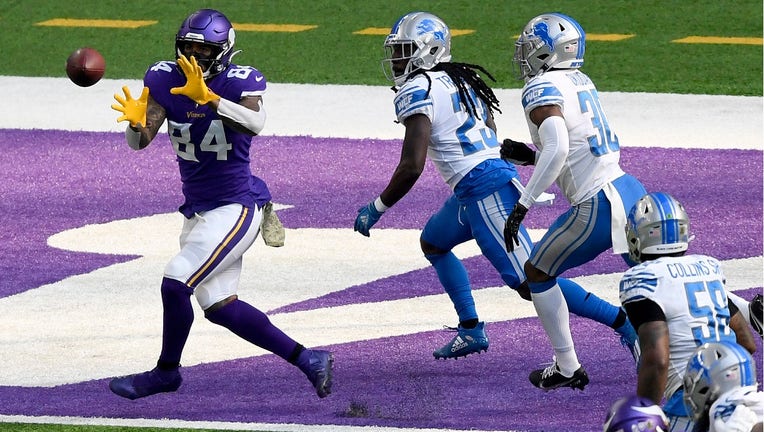 article
MINNEAPOLIS - The Minnesota Vikings open the regular season in less than two weeks at the Cincinnati Bengals, and it's likely they'll be without tight end Irv Smith Jr.
Vikings coach Mike Zimmer said Monday morning Smith will have knee surgery this week to repair a meniscus injury. Smith was set to have a breakout season and start at tight end, with the Vikings releasing veteran Kyle Rudolph in the offseason. He suffered the injury at some point during Friday's preseason game at Kansas City.
Zimmer said he couldn't pinpoint when it happened, but that Dr. Chris Larson will perform the surgery this week. Smith made two catches for 39 yards Friday night, and seemed in good spirits while doing a sideline interview during the game.
The injury and surgery have two timelines, depending on the severity of the procedure. In one scenario, Smith could return within a month. Another has a timeline of six to eight months, which would end his 2021 season.
"We'll just see where he's at. A lot of times you can't really tell anything until you get in there," Zimmer said Monday.
Without Smith, the Vikings have to look at other options at tight end. Zimmer said he expects Tyler Conklin to return to practice this week. Brandon Dillon and Zach Davidson are also options, but the Vikings have to trim the roster to 53 on Tuesday. Zimmer said they would know a lot more after cuts what they'll do, between signing free agents or possible trades.
He also said it's possible they could run more three receiver sets.
"It's all a puzzle," Zimmer said.
He played in 13 games and made seven starts last season, finishing with 30 catches for 365 yards and five touchdowns. He played in all 16 games as a rookie, starting seven, with 36 catches for 311 yards and two scores.
The Vikings also have injury concerns on the offensive line. Rookie and first round pick Christian Darrisaw hasn't practiced since having a pair of offseason surgeries for a core/groin issue. It remains unclear if he'll be available Week 1 at Cincinnati.
Zimmer on Monday sounded cautiously optimistic about linebacker Anthony Barr being ready for Week 1. Barr has not practiced since Aug. 5 due to an undisclosed injury. Throughout training camp, it's had a similar feel to when Danielle Hunter had a "tweak" last year, then had to have season-ending surgery.
Barr has spent several workouts doing rehab in the team's weight room before coming out to watch the end of practice.
"I hate to say it because you guys will say I'm wrong if I'm wrong, but he's doing really good. I think we've got a good plan for him to get ready to go," Zimmer said.