Karl-Anthony Towns returns from COVID-19, but Wolves fall to Clippers 119-112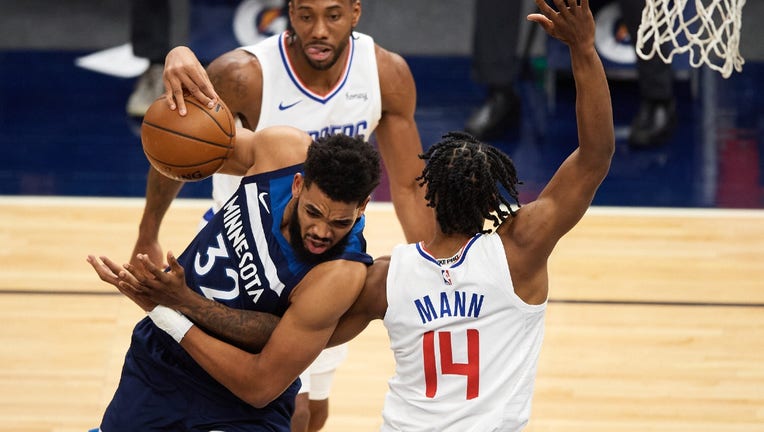 article
MINNEAPOLIS - Karl-Anthony Towns made his his return to the Minnesota Timberwolves Wednesday night after missing 13 games following a positive test for COVID-19. The only thing they didn't get was the payoff of a victory.
Towns scored 18 points on 8-of-15 shooting, including 2-of-7 from the perimeter, and added 10 rebounds, three assists and a steal. Maybe most importantly, he played 31 minutes in his first game since Jan. 15.
"I thought he did a number of positive things. It didn't look as sharp as it probably could have, and I expected that. But I thought he competed, his wind was good, 18 and 10 to come back from a layoff like he did, it was a good night for him," Wolves coach Ryan Saunders said after the loss.
Reports surfaced early in the afternoon that Towns would return from having COVID-19, but he took to social media to say they were premature. He wanted to go through pregame shoot-around and see how he felt, and was deemed a game-time decision after being uprgrade from "doubtful" to "questionable" before the game.
Towns made the start, and made an impact immediately with a rebound dunk and 3-pointer for his first five points.
"It was good. It was definitely mentally just getting back to a rhythm of work. It was really nice, my first time playing basketball in a month. I haven't had any contact or anything, so it was pretty cool just to get a chance to play 1-on-1 at least, let alone 5-on-5. It was fun, good to be out there, great to be with the guys," Towns said after the game. "Love these guys, everyone in that locker room has great spirit. It helped me a lot, getting through this process, and be really coming back."
Towns announced on social media back on Jan. 15, after the team's game against the Memphis Grizzlies was postponed, that he had tested positive for COVID-19. The Wolves went 3-10 during the stretch that Towns has been out, and they're last in the Western Conference at 6-19.
COVID-19 has hit Towns as hard as anyone with the Timberwolves. He lost his mother to health complications from the virus nearly a year ago, and has lost at least six family members due to COVID-19. It's not clear if Towns has suffered any symptoms, or their severity, but went immediately into isolation after his positive test.
He also missed time earlier this season after dislocating his left wrist in the second game of the season.
"He's been through a lot this whole summer, last year. His incredible ability to continue to stay strong, continue to fight through everything he's gone through on and off the court, it's a testimony to him," guard Malik Beasley said.
He didnt have teammate D'Angelo Russell, who is out of Wednesday night's game due to left leg soreness. He played just six minutes Monday night against the Dallas Mavericks, and didn't return.Wednesday night marked just the fifth game for Towns this season. He came in averaging 22 points, 12.5 rebounds and 4.3 assists.
The Wolves need every minute they can get out of their star in what's largely been another lost season for Minnesota. After Wednesday's loss, they have the worst record in the NBA.