Pair of buzzer-beaters highlight busy night of high school basketball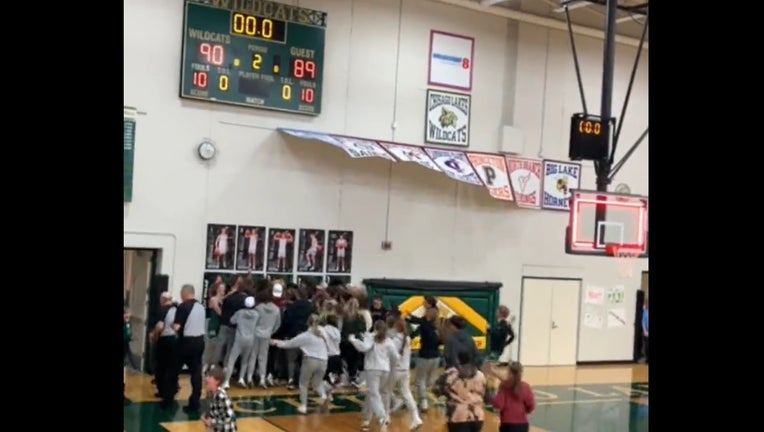 article
MINNEAPOLIS - We're in the heart of the high school basketball season in Minnesota, and a busy night of action Tuesday was highlighted by a pair of improbable buzzer-beating shots.
We'll start in Chisago Lakes, where Patrick Rowe now has a memory he'll take with him he rest of his life. Trailing Becker with just a few seconds to play in overtime, the Bulldogs miss a free throw. Dan Wille grabs the rebound and immediately gets it to Rowe.
His only option? A one-handed heave from just inside the Becker free-throw line, essentially the length of the court. Rowe lets the shot go with less than a second left, it goes in for a 90-89 Chisago Lakes win and bedlam ensues. The Bulldogs are in disbelief as Rowe gets mobbed by his teammates and fans.
The 6-6 junior guard finished the night with 43 points. He had three dunks, and a 3-pointer that sent the game to overtime. Video of the shot is courtesy of Mike Rowe.
It wasn't the only buzzer-beater of the night.
We head north to Esko, which was in a battle with Pequot Lakes Tuesday night. The game is tied 63-63 with 1.5 seconds to play, and Pequot Lakes has the ball. Eli Laposky gets the inbounds pass near midcourt and doesn't have time to take a dribble. He has to alter his shot in mid-air with an Esko defender going for the block.
Somehow, Laposky double clutches and drains the 3-pointer at the buzzer to lift Pequot Lakes to a 66-63 road win. More on-court bedlam in celebration. The video is courtesy of Lex Bass, with Northern News Now out of Duluth.
The two teams have quite the rivalry, as Pequot Lakes ended Esko's season last year in the Section 7AA title game.
March Madness in early February. Both shots are SportsCenter Top 10 worthy.