Minnesota Wild GM Bill Guerin after playoff exit: 'The season is not a failure'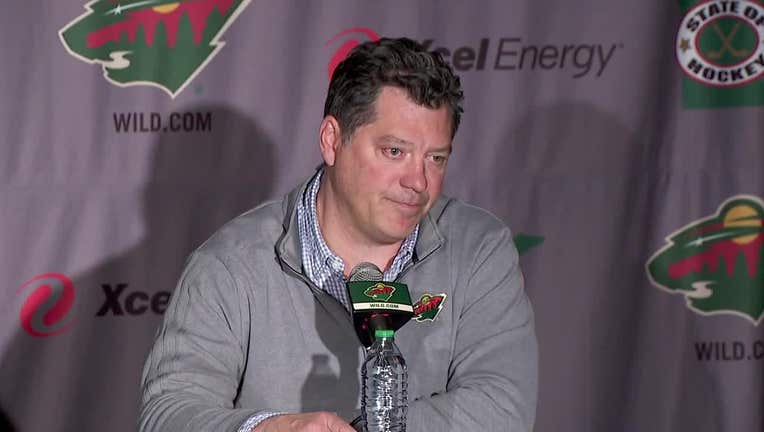 article
MINNEAPOLIS (FOX 9) - Another year, and another early exit from the Stanley Cup Playoffs for the Minnesota Wild.
For the fourth straight year and the seventh time in eight seasons, the Wild was sent home after the first round of the Western Conference Playoffs. Wild players talked about the season on Monday, and on Tuesday, GM Bill Guerin and Dean Evason took their turn.
Before taking questions, Guerin went out of his way to say the season was not a failure.
"I don't view this season as a failure. I do not. Did we reach our ultimate goal? We did not, but the season is not a failure. It is extremely disappointing. I rarely bring this up, but they're fighting with one hand tied behind their back because of these cap restrictions," Guerin said. "Our players and our team have done a fantastic job of just ignoring that and moving on and playing hockey."
The Wild is short for cash to bring in more talent largely after buying out the contracts of Zach Parise and Ryan Suter, who was one of the biggest reasons the Stars beat the Wild in six games. Guerin said the current Wild team will write its own story, that the current group is largely different than the one that hasn't won a playoff series since 2015.
Guerin was rather testy when asked about it Tuesday at Xcel Energy Center.
"There's been this narrative that the Wild can't get past the first round, and I can understand the frustration. In my mind, that's not the narrative of this team. We have a lot of new players, a lot of young players that are just getting going and they weren't part of that," Guerin said. "We're going to write our own narrative, but that's not the narrative for this team. I refuse to hold our players that are new here responsible for what's happened in the past. One day we'll get there."
What will it take for the Wild to get over the playoff hump? Guerin didn't like that question either, cutting off hockey writer Michael Russo with The Athletic multiple times before answering.
"What hump do you want us to get over? Why? I'm not trying to be a smart ass, they're not going to put our name on the Stanley Cup to get to the second round," Guerin said. "They're not going to give is a ring, but that's not our goal. Our goal isn't to make it to the second round. It'd be awesome to get to the second round, but that's not what we're building towards here… We want to win the Stanley Cup."
What Guerin is conveniently leaving out as that for the Wild to contend for a Stanley Cup, the Wild has to win at least three playoff series. The franchise hasn't gotten to a conference finals since 2003. In the last four years, they've been handed early exits by the Canucks, Golden Knights, Blues and now the Stars.
He says the goal isn't just winning one series. He's right, but to get to the next series, you have to win four playoff games.
"It's hard because it is disappointing that we haven't gotten past the first round, but that's not the goal. That's not what we're building towards here. We're trying to build something bigger than that, and sometimes there's pain involved," Guerin said.
Evason said the entire coaching staff has met since losing to the Stars to evaluate every decision they made in the series. Filip Gustavsson didn't play well after Game 1. Marc-Andre Fleury was average, and the Wild got nothing out of Kirill Kaprizov and Matt Boldy.
For the second straight year, the Wild had a 2-1 series lead, only to lose three straight.
"There's mistakes that were made, there's no question. We have to be better as a coaching staff to get our team prepared to win in the playoffs," Evason said. "Very disappointing again to be up 2-1 and not be able to have that desperation game, that nail down and get it done."
WILD SIGNS MARCUS JOHANSSON TO 2-YEAR CONTRACT
Before Guerin and Evason met the media on Tuesday, the Wild announced they've signed Marcus Johansson to a two-year, $4 million contract.
The Wild traded for Johansson on Feb. 28, and in 20 regular season games with Minnesota, he had six goals and 12 assists for 18 points. That includes five multi-point games, and two game-winning goals.
The Wild has other roster decisions to make on Matt Dumba, Gustavsson, Gustav Nyquist, Oskar Sundqvist and John Klingberg, among others.