Minnesota United knocks off Sporting KC 3-0 in MLS Cup Playoffs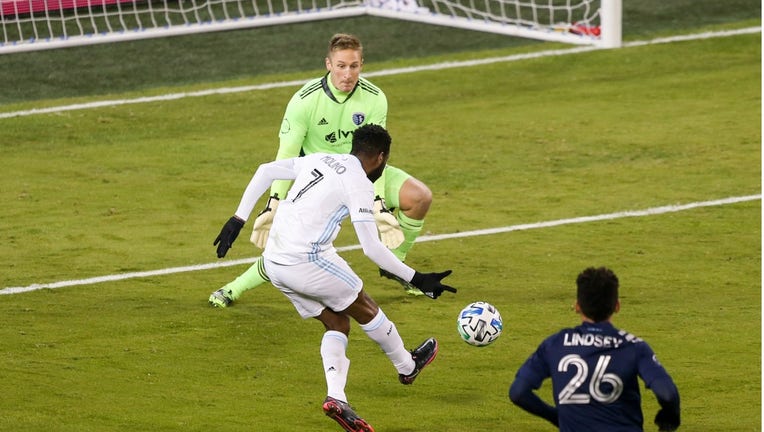 MINNEAPOLIS - Minnesota United is one win away from playing for an MLS Cup championship after knocking off No. 1-seeded Sporting Kansas City 3-0 Thursday night in the Western Conference Semifinals.
The Loons are one of the hottest teams in MLS, now on a 10-game unbeaten streak. They've posted three straight clean sheets, and have out-scored opponents by a combined 9-0 over that stretch. Minnesota United will head to Seattle Sounders FC Monday night to play for the Western Conference title.
"We spoke about it a few weeks ago, can we go undefeated until the end of the season? Then we said we've got five games, if we win five games we'll be MLS champs. Now we've got two, and the last three games three-nil. Big games, important games and a lot at stake," coach Adrian Heath said with a raspy, celebratory voice after the win. "I think that's a testament to the players."
The eighth time is apparently the charm for Minnesota United at Children's Mercy Park. Sporting KC made it clear who the favorites were in pregame warm-ups. Plastered on the scoreboards were their 7-0 record against the Loons since 2014, with a 15-1 scoring advantage over that stretch.
"I was like that's not happening today. The boys all over the park did their jobs in every aspect. It's difficult to single out one person," defender Michael Boxall said.
Minnesota United had to weather an early rush before it went on the attack. Boxall made the first big play, in the first minute. Johnny Russell chipped a ball over keeper Dayne St. Clair, and Boxall as there on the end line to head it away before it could go in.
St. Clair did his part a few minutes later. He denied Russell on a breakaway, then stopped a header with his right hand that was headed for the back of the net. The two saves gave early fuel to the Loons' offense.
"It gave us motivation. As they kept putting on pressure, we know that we can be really deadly on the counter. It kind of opened up space. When you make saves like that, it kind of gives the team a boost that we all know we need to pick it up and it will give us confidence to get one," St. Clair said.
Kevin Molino, who has been an offensive star for Minnesota United in recent games, got the scoring started. After a series of passes, Emanuel Reynoso threaded a pass to an open Molino on the wing. He beat keeper Tim Melia for a 1-0 lead in the 26th minute. The Loons are now 11-0-3 when they score first.
The Loons added to it eight minutes later. Reynoso chipped a ball over the Sporting KC back line, and Molino flicked it inside the far corner post for a 2-0 lead. Minnesota United scored its third tally of the half in the 38th minute. Reynoso sent a corner kick in, and Bakaye Dibassy was in the perfect spot for a header in the back of the net.
Molino now has 10 goals on the season and is on a recent tear, with two goals in three straight games. Only two other players have done that in the MLS Cup Playoffs, and they both won championships.
It's the second straight game with at least three assists for Reynoso, who has 10 in his last four games. Molino is on a tear, with three straight games scoring twice.
"Those guys are so much fun to watch. They're class, and what they did in the first half was pretty special," Boxall said.
The turning point for Heath came on the early play from Boxall, and the saves from St. Clair.
"Goals change games. Had that one gone in, it might have been a different game, but it didn't. After that I thought we were outstanding," Heath said.
For St. Clair, it's his third straight clean sheet. He shut out FC Dallas in the regular season finale, and Colorado Rapids in the first playoff win at Allianz Field.
"I know I'm more than capable. It's just about putting the performances in and having the confidence. I felt like going into each game that I can keep a clean sheet, and I look forward to keeping it going. Every time I step on the pitch, that's my goal," St. Clair said.
"The one thing I can say about Dayne is he's saved everything he should save, and then he's come up with big saves at the big moments. That's a top class goal keeper," Heath said.
Minnesota United was heavy underdogs at Sporting KC Thursday. They'll be underdogs at Seattle Monday, and they don't really care.
"I know within this group there's no one we're afraid of playing or no one we don't think we can't beat in this league," Boxall said.