Timberwolves eliminated from NBA Playoffs after 114-106 loss to Grizzlies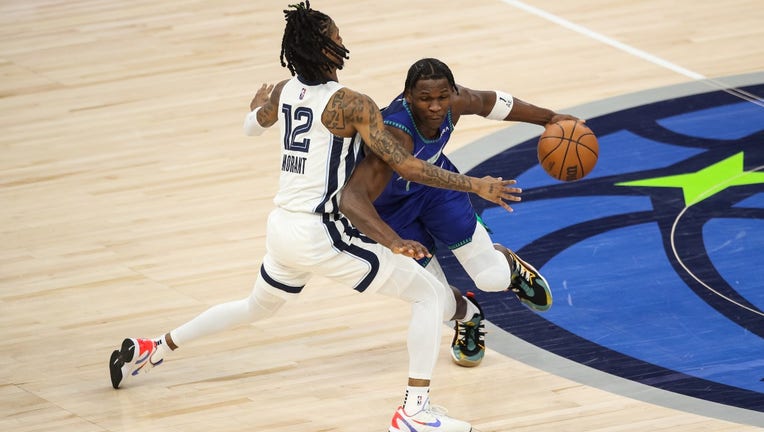 MINNEAPOLIS - The Minnesota Timberwolves entered Game 6 Friday night at Target Center feeling they should've already won the series against the Memphis Grizzlies. Malik Beasley said earlier this week they should be resting to face the Golden State Warriors.
They won't get that chance, at least not this year. The Timberwolves' season came to an end in a 114-106 loss to the Grizzlies in front of a sellout crowd, losing the series 4-2. The most disturbing of trends reared its ugly head yet again Friday night: A game there for the taking slipping away in the fourth quarter.
Leading 84-74 after three, the Timberwolves were out-scored 40-22 over the final 12 minutes. They missed shots, they turned the ball over and they couldn't get rebounds on the key possessions. It was the third time in the series Minnesota let a double-digit lead in the fourth quarter slip away.
The Timberwolves had two 20-plus point leads slip away in a Game 3 loss, and led by 13 in the fourth quarter in Game 5 before losing.
"The great thing about all of this is it's all about exposure. Everybody gets exposed at the highest level for their weaknesses, their flaws, things they have to learn and grow, myself included," Timberwolves coach Chris Finch said after the loss. "Every loss we've had a chance, but you are what you repeatedly do and if we're not able to close these high-leverage games, then we need to be better at that. I hope we are a bit angry and a bit disappointed, I hope that fuels us."
While Ja Morant did the "Griddy" on the Timberwolves' logo and Dillon Brooks celebrated with him, Karl-Anthony Towns and his teammates huddled, congratulated each other and thanked the fans for their support and energy before leaving the Target Center floor.
The loss is disappointing, for sure, but the team feels like it's the start of something bigger. The Timberwolves won 46 regular season games, and made their second playoff appearance since 2004.
"That next run is going to be something special, and we know it. I think the league understands who we are, they know what we are. We're not that laughing stock like everyone has tried to make us for all these years," center Karl-Anthony Towns said. "We came out, we balled out, we gave ourselves a chance. I think this is the beginning of something special."
Towns finished with 18 points, 10 rebounds and four assists. Anthony Edwards led Minnesota with 30 points, five rebounds and five assists. But the story for the Timberwolves was Jaden McDaniels and Jordan McLaughlin. McDaniels scored 24 points on 8-of-9 shooting, 5-of-6 from the perimeter.
McLaughlin had nine points, five rebounds and four assists. He played so well that Finch sat D'Angelo Russell in the key moments of the fourth quarter. He finished with just seven points, four assists, three steals and four turnovers.
The Grizzlies scored six straight to start the fourth quarter, and the Timberwolves answered with a run to take a 91-84 lead. It was the second run for Memphis that Minnesota didn't have a response to. McDaniels hit a 3-pointer to get the Timberwolves within 103-102, but with under a minute to play, Apple Valley native Tyus Jones, a former Timberwolf, hit a dagger 3-pointer to give Memphis a 106-102 lead.
"I think they just made a lot of big shots tonight when they needed to. They just made a bunch of shots. They won the game, hats off to them," Edwards said.
Desmond Bane and Brooks led the Grizzlies with 23 points each. Brandon Clarke added 17 points and 11 rebounds. The Timberwolves were out-rebounded again, 56-37, and gave up 17 offensive rebounds.
The Timberwolves left the floor to their fans giving them a standing ovation. The players, and Finch, clapped back in appreciation. The season may be over in another frustrating loss, but it feels like it could be the start of a new chapter for the franchise.
"It's good to have that backing and it's good to have basketball back in a meaningful way here. Now it's our responsibility that this is just the first step of what we hope to be a long run," Finch said.
"It was incredible, I can't describe it. I'm definitely sad it's over, but I'm ready to get back here next year. I'm ready to put in the work this summer," Edwards said.
The Timberwolves are left to reflect and move forward. This season was about proving they could make the playoffs. Now it's about moving forward. A season that started with Gersson Rosas being fired during training camp ended with stability, a playoff appearance and Target Center filled with fans again. 
But ultimately, it will come down to winning championships.
"Obviously disappointed that we didn't bring them a win and give them a chance to see a Game 7 and a chance to move onto the next round. I thanked the fans for showing up the way they did this year. Without them, I don't know this was possible to even be in this position," Towns said.