Minnesota Timberwolves introduce Rudy Gobert after blockbuster trade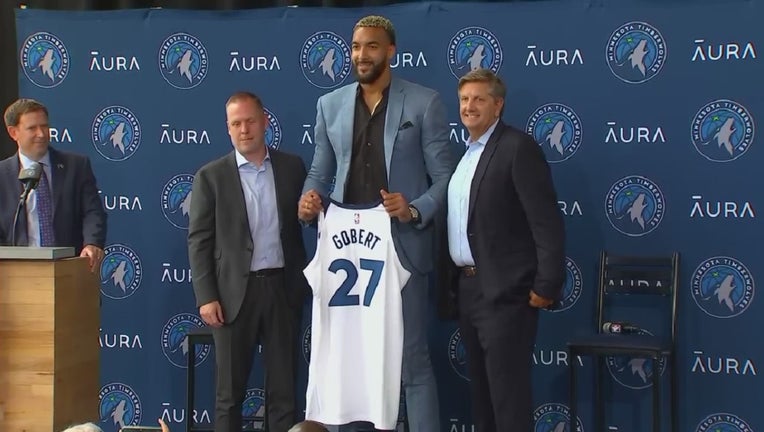 article
MINNEAPOLIS - Rudy Gobert arrived to Minnesota via private jet on Wednesday, and headed straight to his new home at Target Center.
Every TV in the building had displayed, "Welcome Rudy Gobert," as did the jumbo tron above the court after he watched the Lynx hold off the Chicago Sky 81-78. A few hundred fans came into the see the team's newest star, acquired in a blockbuster trade that involved sending five players and four future first round picks to the Utah Jazz.
Gobert walked up with President of Basketball Operations Tim Connelly, and his new head coach Chris Finch, in front of a large screen showing a highlight reel of dunks and blocked shots as he was introduced as the newest member of the Timberwolves. In a few short months, he'll be making those same plays alongside new teammate Karl-Anthony Towns.
Acquiring Gobert is arguably the biggest trade in franchise history, and one that didn't seem likely from either side a week ago.
"When you look at players of Rudy's abilities, they don't become available very often. We're trying to develop winning ways, trying to develop into a sustainable team that can enjoy winning at the highest level. He's seen that. This guy is going to be a hall of famer," Connelly said. "I've been in the NBA a long time, there's only a handful of those types of calls, those types of players that you think can become actionable. When you get a call like the one we got about Rudy, you pretty quickly realize how unique the situation is and you want to be as aggressive as possible."
Finch called Gobert "a perfect fit at a perfect time for our organization."
"It's not often you get a chance to add somebody who brings such a level of professionalism, maturity and experience alongside a young corps who fits seamlessly into what we need the most," Finch said.
After a 46-win regular season and the franchise's second trip to the playoffs since 2004, the Timberwolves needed a defensive star. They needed a rim protector to help keep Towns out of foul trouble, and prevent easy baskets.
Gobert comes to Minnesota as a four-time All-NBA pick, and a three-time Defensive Player of the Year after nine seasons in Utah. Paired with Donovan Mitchell, they led the Jazz to the top of the Western Conference. Gobert admitted Wednesday he had to think about joining the Timberwolves and Towns for a few days before giving his agent the go-ahead.
"The first time (my agent) told me, I was like can that work? I was thinking about it every day, kept thinking about it more and more and it's probably the best and most exciting challenge for me. Pair up with a guy like KAT and with an organization like the Timberwolves that I think really wants to win, is willing to do whatever it takes to win," Gobert said. "I couldn't hope for a better situation."
Connelly was hired to take over the Timberwolves' front office less than two months ago. It didn't take long for him to make his first big move in acquiring Gobert.
Minnesota sent Malik Beasley, Patrick Beverley, Jarred Vanderbilt, Leandro Bolmaro and Walker Kessler, plus four future first round picks, to bring in the NBA's top defensive player. They gave up a lot, but didn't have to lose Towns, Anthony Edwards or Jaden McDaniels.
"When you're able to add a difference-maker and not trade a guy in a similar tier, it's so rare. When we started having those discussions, his name kept popping up. Collectively as the discussions developed, we said we're not going to have many chances to get a guy who is in his prime," Connelly said. "We didn't think we'd get a call like this for a long, long time. He doesn't inhibit anything we have presently, he makes it better."
A 7-1 center at nearly 260 pounds, Gobert averaged 15.6 points and 14.7 rebounds in 66 regular season starts last year. Gobert, just 30 years old, ranked second in the NBA last season with 53 double-doubles, and was third in blocked shots at 2.1 per game. He's played in 49 career playoff games, all starts, averaging 13.4 points on 66.2 percent shooting, 11.3 rebounds and 1.8 blocks per game.
"I just know that when you have an opportunity to get a guy like this, you've got to be aggressive. Your chances of getting him by any other mechanism is very, very small," Finch said.
The move is ultimately about making the Timberwolves consistent winners. A franchise that's been to the Western Conference Finals once in 33 years now has a starting corps that features Towns, Gobert, D'Angelo Russell, Edwards and McDaniels.
"The goal is to win a championship. I came here for that. I didn't come here just to be a good team, I came here to try and take this team to titles and accomplish that," Gobert said. "I'm going to do whatever I can to help these guys take the next step and help this team take the next step."