Minnesota Lynx select Maryland guard Diamond Miller No. 2 overall in WNBA Draft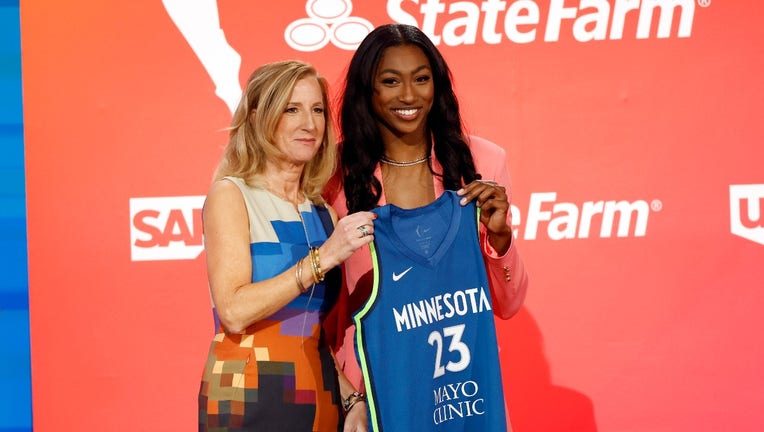 article
MINNEAPOLIS (FOX 9) - The Minnesota Lynx on Monday added one of the best college guards in the country to start the 2023 WNBA Draft.
With the No. 2 overall pick, the Lynx chose Maryland guard Diamond Miller. A former five-star recruit out of high school, Miller was a Second Team All-American this past season for the Terrapins and a two-time All-Big Ten pick.
This past season, she averaged 19.7 points, 6.6 rebounds, 2.9 assists and 2.1 steals for the Terrapins, and set a program record with 201 made free throws. At 6-3, Miller will give the Lynx size and skill in the backcourt.
Minnesota Lynx coach and president of basketball operations Cheryl Reeve said at her pre-draft news conference the team had zeroed in on three to four players with the No. 2 overall pick. Mitchell was one of their priorities.
Miller is the highest draft pick for the Lynx since they chose Maya Moore No. 1 overall in 2011.
"The intel that we've gotten on Diamond and the research that we did and clearly the player that Diamond is. Potential, I'm not typically as much of a believer in, I think it's very dangerous with this whole ceiling business. So I think we go what's our floor? Then if we have to improve a couple things, what are the chances of us being able to improve a couple things, and we felt good about the chances," Reeve said Monday night.
Miller had a career-high 32 points and 10 rebounds last November in a win over Baylor. In early December, she had 31 points, 12 rebounds and five assists, and hit the game-winning shot in a win over Notre Dame.
The Lynx weren't done after Mitchell, as they had two first round picks and five overall. With their other first round pick, they took French center Maia Hirsch. They also took UConn forward Dorka Juhasz, South Carolina guard Brea Beal and Virginia Tech forward Taylor Soule.
It's a new era for the Lynx in the 2023 season, with center Sylvia Fowles retiring from professional basketball and Napheesa Collier returning for her first full season since having her first child. Next up for the Lynx is training camp, and Reeve said everyone will get an opportunity.
"It felt like a particularly solid draft for us. To have a really competitive training camp was a big-time goal of ours. I think we accomplished that," Reeve said. "Unlike some year's past, we are incredibly open-minded about who is on our roster and why. So I think all of the prospects should feel really good about coming to the Minnesota Lynx training camp, because they will be given an absolute very good look and chance to be on our team."