Minnesota Aurora FC opens 2023 season with dominant 5-0 win over Rochester
MINNEAPOLIS (FOX 9) - Nicole Lukic came into preseason training talking about "The Aurora Way" as Minnesota Aurora FC opened its second season in pre-professional women's soccer, after nearly winning a USL-W title in the team's first season.
If Wednesday night's 2023 opener is any indication, that involves scoring goals in bunches and making opponents look like they're stuck in the mud. Minnesota Aurora FC dominated Rochester FC from the opening kickoff in a 5-0 win in front of a near sellout crowd of 5,187 fans at TCO Stadium in Eagan.
Four of the five goals came in the first 35 minutes, and Aurora had four different goal scorers.
"Really exciting night. I think the team really enjoyed being back in this atmosphere with all of our wonderful fans and the community behind us. If you would've told me that this would end 5-0, I think everybody would've said we'd be pretty happy with that for Game 1," Aurora coach Nicole Lukic said after the win.
Aurora got a pair of goals in the first 14 minutes, and never took its foot off the gas. Catherine Rapp got the first score of the season, just five minutes in on a feed from Makenzie Langdok. Nine minutes later, Hannah Adler scored off a feed from Mariah Nguyen to give Minnesota Aurora a 2-0 lead.
It turns out they were just getting started. Rapp scored her second goal of the night off a feed from Maya Hansen in the 35th minute for a 3-0 lead. Less than a minute later, Hansen scored as Minnesota Aurora took a 4-0 lead into the half.
"I think it was our team. We came out with a mindset and a goal, and a plan of what we wanted to do. Because of my teammates and all that we've been working on for the past couple of weeks with the coaches and everybody, I was able to just do my job and finish the chances I had," Rapp said. "With the players that we have, I believe we can be clinical and score. How we played tonight, we were ruthless. If we continue doing that every game, there's no telling what could happen." 
Rapp had three goals in the entire 2022 season. She's off to a fast start to eclipse that after just one game.
"Incredible and not surprising because she's been on fire the last two weeks at training. Really happy to see some goals go in for her tonight," Lukic said. "I know her sisters are already giving her a hard time for not getting that hat trick."
A team that returned 17 of its 28 players from a season that nearly ended with a USL-W title looked like it never lost stride, playing its first game in about 300 days. The lopsided score allowed Lukic to go to her bench and get reserves valuable playing time in the second half.
Minnesota Aurora put a bow on a successful opening night in the 81st minute. Jelena Zbiljic buried a loose ball in front of the Rochester FC net for a goal to cap off the victory.
Amanda Poorbaugh got the start in net for Aurora, and barely got tested in a three-save night. She had a clean sheet for 71 minutes before Olivia Graupmann played the final 20 minutes.
As they do after every win, Aurora players celebrated with their fans.
"I think it's amazing. Just pure excitement, playing last year I think fans are such a huge reason why we do so well and why other players want to come here. The experience and atmosphere helps push us. I think it's great that women's sports are being looked at like this," Rapp said.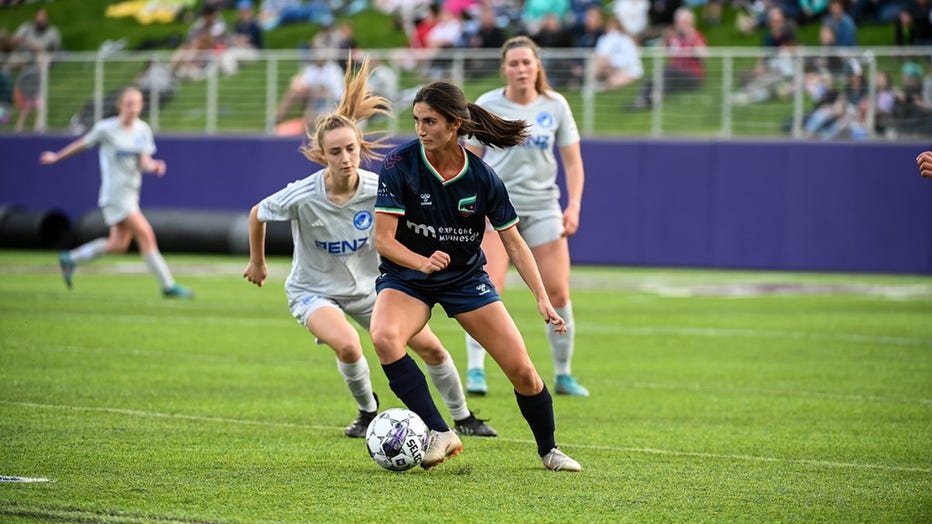 Minnesota Aurora FC had three goal scorers in a 5-0 win over Rochester FC to open the 2023 season Wednesday night at TCO Stadium in Eagan. (Minnesota Aurora FC)