Gophers' rally falls short in 72-67 loss to Penn State at Big Ten Tournament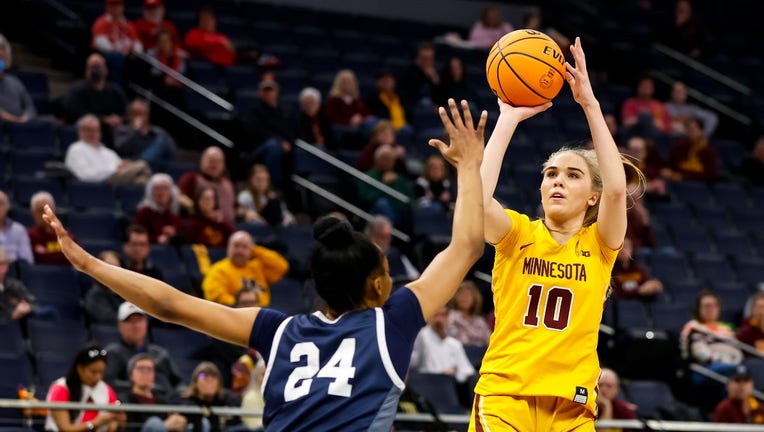 article
MINNEAPOLIS (FOX 9) - They didn't go down without a fight, but the University of Minnesota women's basketball team had its season come to an end after a 72-67 loss to Penn State on Wednesday at the Big Ten Tournament at Target Center.
The Gophers finish the season 11-19 overall, and they won't be playing in an NIT or NCAA Tournament.
"I'm so proud of the group for hanging in and believing. I'm proud of how we battled, we've done that all year and I cannot thank our seniors enough for what they've done. We'll carry that moving forward with this group we have," Gophers' coach Lindsay Whalen said after the loss. "This is a group that's just going to only continue to get better."
Minnesota swept Penn State in the regular season, but it's the Nittany Lions who are moving on in the conference tournament. The Gophers trailed 21-3 early and cut the deficit to 35-25 by halftime. They trailed 56-41 going into the fourth, but went on an 18-3 run to and tied the game 66-66 with under a minute to play.
"We fought, we gave everything we had. We came back from a huge deficit early on. The way we fought back, the way we came back just describes this team. That energy is what's going to keep us going for next year," freshman guard Mara Braun said. "We'll play with a chip on our shoulder… Every workout now in the offseason, just remember this feeling. Remember the hurt and come back hungry next year."
Penn State answered with a three-point play, then made a pair of free throws to seal the win.
Mara Braun led the Gophers with 25 points, shooting 10-of-23 from the field and 4-of-12 from the perimeter. Amaya Battle added 16 points, five rebounds and five assists. The Gophers were plagued by 22 turnovers, and shot 41% from the field, including 7-of-23 from the perimeter.
Alanna Rose Micheaux, who had 31 points for the Gophers the last time they played Penn State, was held to nine points and added nine rebounds. Isabella Gradwell had nine points and two rebounds off the bench, and was one of four Gophers' seniors to play their final game.
The Gophers' season ended with hugs and tears in the locker room, and without an NCAA Tournament for the fifth straight season.
"Despite our record, this was one of my favorite years as a collegiate player. Just from my teammates, the coaches, just believing in me as a player, as a person. Coach Whay said 'I don't know if you're going to play a lot, but we would love to have you here. We love your experience.' She gave me a shot and that was all I asked for," Gradwell said. "I'm grateful I got this opportunity."