Gophers men's track team ranked No. 1 for first time in program history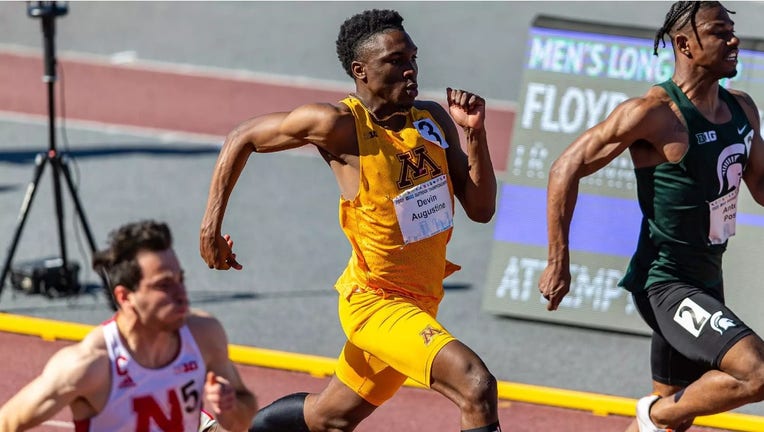 article
MINNEAPOLIS (FOX 9) - For the first time in school history, the University of Minnesota men's track and field team is the best in the nation.
The Gophers got the top spot in this week's poll, put together by the U.S. Track & Field and Cross Country Coaches Association. The Gophers have the No. 1 spot over LSU, California, Harvard and Texas A&M.
So how did they get there? For starters, they have the top-ranked athletes in the country in four events. The Gophers also have six athletes ranked in the top-five, and nine total in the top-10 in their perspective events. 
Minnesota jumped 17 spots after being No. 18 in the last poll.
The Gophers feature the top sprinter in the country, Kion Johnson. He ran a 10.13 100-meter dash at the Raleigh Relays, tying for the top time in the country this season. He's also No. 9 in the nation in the 200-meter dash, at 20.70 seconds.
Devin Augustine is ranked No. 1 in the country in the 200-meter dash, running in 20.49 seconds.
Former Minnetonka standout Matt Wilkinson has the No. 1-ranked 3,000-meter steeplechase time in the country, at 8:29.35. Isaiah Schafer is currently No. 1 in the country in the shot put, with a throw earlier this month of 64 feet, 11.25 inches.
The Gophers have two others ranked in the top-three nationally in their events. Kostas Zaltos is No. 2 in the country in the hammer throw at 240 feet, 8 inches. Jak Urlacher is No. 3 in the nation in the pole vault, at 18.05 feet.
Next up for some Gophers' athletes is the Hamline Invitational on Saturday. Others are headed to the Jim Click Invite in Tucson, Ariz. Minnesota will compete in the Big Ten Championships May 12-14, and the NCAA Regionals are May 24-27.