Gophers: Knies named Big Ten Player of the Year, Motzko Coach of the Year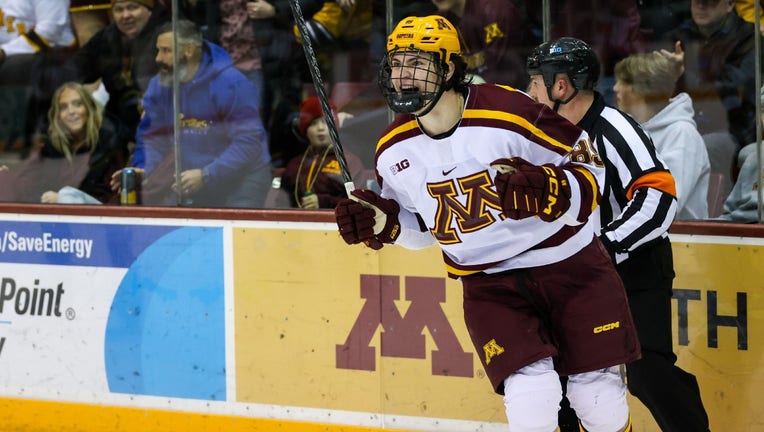 article
MINNEAPOLIS (FOX 9) - The University of Minnesota men's hockey team piled up Big Ten honors on Tuesday after winning the league's regular season title for the sixth time.
Matthew Knies was named the Big Ten Player of the Year for the second straight season, Brock Faber was named the league's Defensive Player of the Year for the second straight season and Bob Motzko was named the Coach of the Year for the third time in four seasons. Minnesota has been ranked No. 1 in the country much of the season, and will be the No. 1 overall seed in the NCAA Tournament if it beats Michigan in the Big Ten title game.
The Gophers set Big Ten records with 19 wins and 57 points during the conference season. Knies, Faber and Logan Cooley were all selected First Team All-Big Ten. Goalie Justen Close, Jackson LaCombe and Jimmy Snuggerud earned Second Team All-Big Ten honors.
Knies leads the nation with seven game-winning goals, and is sixth in the country with 21 on the season. The Gophers are 17-2 when Knies scores.
Faber is the second player in Big Ten history to win the league's top defensive honor in consecutive seasons. He has 23 points on the season, with four goals and 19 assists.
Cooley, one of the top freshmen in the league, leads the Gophers with 50 points on the season. He has a point in 28 of 34 games this season, and the Gophers are 14-0 when he scores. His 32 assists this season are second in the country.
The Gophers (26-8-1) host Michigan for the Big Ten title and an automatic bid to the NCAA Tournament Saturday night at 3M Arena at Mariucci.