Gophers: How Matt Simon, Greg Harbaugh will share Minnesota's offensive coordinator duties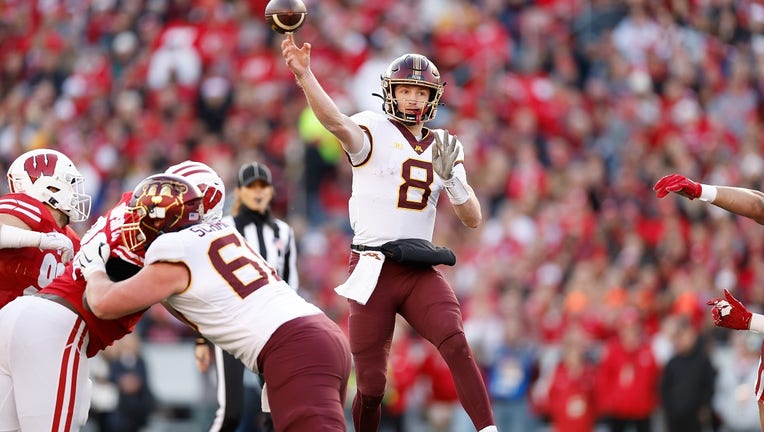 article
MINNEAPOLIS (FOX 9) - The University of Minnesota football team will have a vastly different look when the offense takes the field on Aug. 31 against Nebraska at Huntington Bank Stadium.
Gone are Tanner Morgan, John Michael Schmitz and Mo Ibrahim. Dylan Wright and Michael Brown-Stephens have left the program. Redshirt sophomore Athan Kaliakmanis is the new quarterback in charge, and the running back room has several new faces. He's likely to lean on a receiver room that includes Chris Autman-Bell, Daniel Jackson, and transfers Corey Crooms Jr. and Elijah Spencer, as well as tight end Brevyn Spann-Ford.
It's the job of co-offensive coordinators Matt Simon and Greg Harbaugh to put it all together and make it work. They're replacing Kirk Ciarrocca, who left for the same job at Rutgers. Simon is also the wide receivers coach, and Harbaugh is the quarterbacks coach.
So who will call the offensive plays in 2023? The Gophers are keeping that very close to the vest.
"We're going to keep that internal for now," Gophers coach PJ Fleck said at his pre-spring football news conference.
In the two spring workouts open to the public, both Simon and Harbaugh have worn headsets. Simon called the plays in two Gophers' bowl wins against Auburn and most recently Syracuse. Harbaugh also has experience calling plays.
"With Greg and I, he and I have been best friends for a long time. The cool thing for us is being able to share the same vision of what elite offenses end up being. Everything that we get to do, it's to be together," Simon said. "We certainly have a vision, and at the end of the day we want to be able to build it together. It isn't just my offense or Greg's offense, it's our offense."
Harbaugh also wouldn't bite when asked recently if it matters who calls the offensive plays.
"Right now that's completely internal. Right now the biggest thing with that is it's a collaborative effort. Coach Simon and I are right there, it doesn't matter who it comes out of," Harbaugh said. "Both of us have called plays. I think that's the biggest thing, it's a true collaborative effort."
One thing is certain: The Gophers will look a lot different when they have the ball in 2023. With uncertainty in the running back room and Kaliakmanis running the offense, there will be more passing this season. There has to be, as only the service academies ran the ball more than Minnesota last season.
We'll have to wait until the fall to see Autman-Bell on the field. Jackson led the Gophers in receiving last season, and has been the standout in spring football. Add in Crooms, Spencer and a healthy Spann-Ford, and the Gophers aim to be much more explosive.
Simon said this year's Minnesota receiving corps is arguably the best since 2019, when they had NFL Draft picks in Rashod Bateman and Tyler Johnson.
"I don't know if anyone is a first round draft pick, but we have a group of guys that we probably have five or six guys, maybe even seven guys, we don't care who's on the field. That's a good feeling, but it's also a challenge for us to put those guys in the best positions to be successful," Simon said. "They don't care who gets what rep."
The top priority: Get the ball to the playmakers.
"That's kind of the philosophy, week to week it can be different, but that's the main focus is highlight our players' strengths and get the ball to our playmakers," Harbaugh said.
Without Autman-Bell and Spann-Ford in spring football, we'll get our first chance to see what that looks like in August.