Gophers football: 5 offensive players that need to make an impact in 2023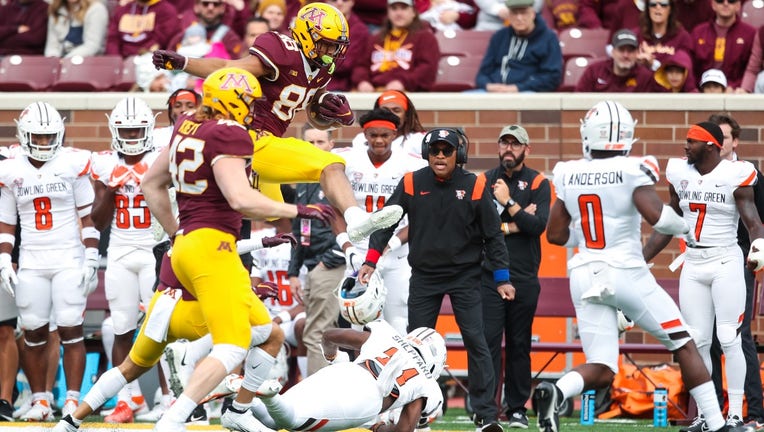 article
MINNEAPOLIS (FOX 9) - Spring football is over for the University of Minnesota, and we won't see the Gophers again until fall camp starts in August.
The spring season was used to create position battles. Camp will be about winning jobs before the Gophers open the 2023 season on Aug. 31 against Nebraska at Huntington Bank Stadium. That's right, Matt Rhule opens his era with the Cornhuskers against PJ Fleck.
The Gophers are likely to have a different approach in 2023, with Mo Ibrahim gone and several holes to fill on defense. With that in mind, here are five offensive players who will need to have an impact in 2023.
ATHAN KALIAKMANIS
For the first time in six years, the Gophers will have a quarterback running the offense not named Tanner Morgan. We got a glimpse of Athan Kaliakmanis last season when Morgan had to miss games due to being in the concussion protocol. Kaliakmanis can simply make throws and plays that Morgan couldn't, both with his feet and arm. Kaliakmanis threw for 946 yards and three touchdowns in 11 games, and was on pace for a big day in the Pinstripe Bowl before going down with an ankle injury. With a receiving corps as deep as it's ever been under Fleck, it could be a big year for Kaliakmanis and the passing attack.
QUINN CARROLL
The Gophers have three starters to replace on the offensive line, but Quinn Carroll is one of the veterans back. He'll likely take on a new role in 2023, shifting to right guard after playing at tackle last season. It should be better suited for him in both run-blocking and pass protection. His physicality up front will be key in keeping Kaliakmanis upright, and opening up running lanes.
SEAN TYLER/ZACH EVANS
Minnesota's backfield will look vastly different in 2023. Mo Ibrahim is pursuing an NFL dream, and Trey Potts left the program. Bryce Williams is the lone returner who got significant snaps, but Fleck will likely lean heavily on Sean Tyler and Zach Evans in the run game. Tyler came to Minnesota from Western Michigan, where he ran for more than 2,800 yards and 23 touchdowns over four seasons. He was limited in spring football, but will compete for the starting job in the fall. Evans played in one game and had six carries for 29 yards last season, missing time with an injury. But he made a splash in the spring season and was an MVP of the Spring Game with two touchdown runs, including one from 75 yards out up the middle. Tyler and Evans are likely the leading candidates to carry the run game in 2023.
BREVYN SPANN-FORD
Brevyn Spann-Ford didn't do much in spring football after offseason shoulder surgery, but we got a glimpse of his potential last season. The tight end was Minnesota's second-leading receiver with 42 catches for 497 yards and two touchdowns in 13 games. His size, ability to make contested catches and rub block all have NFL coaches salivating. He's one of the top tight ends in the country, and came back for the 2023 season to boost his NFL Draft stock. If that happens, it likely means a big year for the Gophers.
CHRIS AUTMAN-BELL
Chris Autman-Bell also didn't do much in spring football, after tearing multiple knee ligaments in the third game of the season against Colorado. He has 125 catches for 1,970 yards and 13 touchdowns in 47 career games, and has at least one catch in 41 straight games. We won't know where he's at physically until fall camp, but Autman-Bell is the consummate leader and teammate. If he's back healthy and can contribute, it makes the Gophers' offense that much more dynamic.