Gophers: Did Jamison Battle play his last home game in loss to Badgers?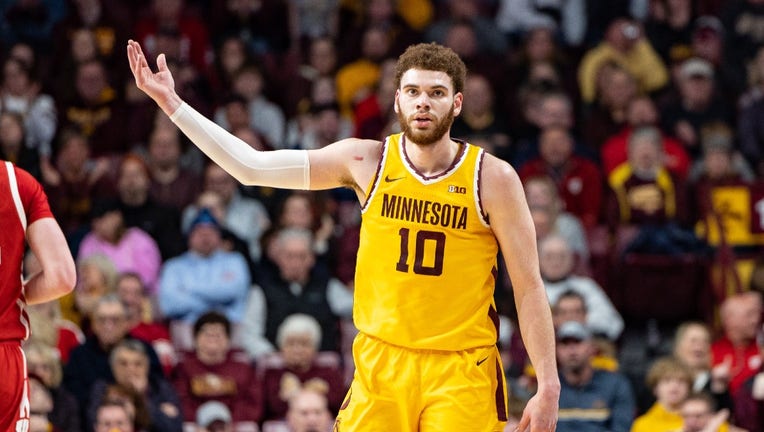 article
MINNEAPOLIS (FOX 9) - Ben Johnson made it all but official Sunday night that Jamison Battle likely played his last game with the Gophers at Williams Arena.
The University of Minnesota men's basketball team closed out the regular season with a 71-67 loss to Wisconsin to finish 8-21, and 2-17 in the Big Ten. The Gophers led 36-29 at the half, but Minnesota natives Steven Crowl and Tyler Wahl combined for 42 points to lead the Badgers to a victory.
It was Senior Day for the Gophers, and after the loss, they honored Taurus Samuels, Battle and Ta'Lon Cooper. Samuels came to Minnesota as a graduate transfer with one year of eligibility left. Battle and Cooper each have one more season if they choose, but participating in Senior Day would suggest they won't be returning next season.
Battle, an All-Big Ten pick last year, is second on the team in scoring at 12.8 points per game despite missing time early after foot surgery before the season. Battle has two college degrees, and it's likely he's ready to move on.
"He's got an opportunity to go become a professional and be a pro, that's been a goal of his. We'll support him 100 percent in that. He's done everything right from when he got here to put himself in a position to have an opportunity," Johnson said. "I think he's just in the mind frame of that's exciting to him right now. He's done his four years, he's done it at a high level and now it's time to try something new. I just want to thank him for believing in us."
It's a similar situation for Cooper, who averaged 9.8 points, 4.1 rebounds and led the Gophers with 178 assists (6.1 per game) in the regular season. He had 11 assists and zero turnovers in last Thursday's win over Rutgers that snapped a 12-game losing streak.
The Gophers finished last in the Big Ten for the second straight season, and as the No. 14 seed will face No. 11 seed Nebraska in the Big Ten Tournament on Wednesday. Minnesota's season will come to a close without a postseason for the second straight year. 
Once the Gophers are eliminated, he'll be having conversations with players to see who is back next season. Everything has changed with the NCAA's free one-time transfer, and with name, image and likeness.
Johnson admitted Sunday night next season's roster is likely to look a lot different than it does now.
"As much as you don't want to lose guys, and as much as you think your situation is great, some guys at other schools that we're going to get are going to leave because X,Y,Z reasons. We'll have to cross that bridge when it comes. It's about relationships, you hope guys feel an atmosphere that they want to be a part of," Johnson said. "The vibe, the energy, it's got to be a place they want to come to every day. The days of crushing dudes or coaching them crazy hard, not loving them up, those probably aren't going to work very often. It's the climate of college sports right now."