Gophers: 4 players could be selected in 2023 NFL Draft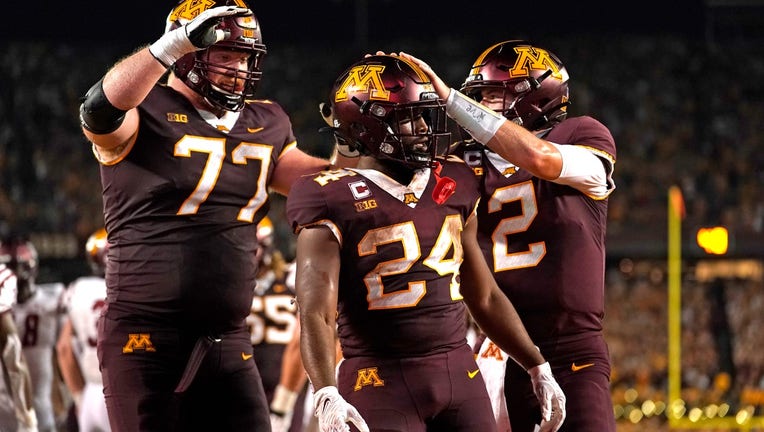 article
MINNEAPOLIS (FOX 9) - It's Draft Day in the NFL, and it's not just the Minnesota Vikings who will be making news with the No. 23 overall pick.
It's a potentially life-changing weekend for as many as four University of Minnesota football players, and it could start as early as the first round Thursday night. John Michael Schmitz, Mo Ibrahim, Terell Smith and Jordan Howden are all likely to get a phone call over the next three days that will solidify their NFL future.
Since becoming the Gophers' head coach in 2017, PJ Fleck has had 13 players selected in the NFL Draft. That number is expected to rise to 17 by Saturday. Here's a look at this year's potential selections.
JOHN MICHAEL SCHMITZ
Schmitz was one of the top centers in college football last season, and one of the big reasons the Gophers had one of the top rushing attacks in the Big 10 in 2022. He started 35 career games, including 25 the last two seasons and led an offensive line in 2022 that helped the Minnesota rushing attack to nearly 2,700 yards and 33 touchdowns. Schmitz, an All-Big ten pick and All-American this season, can play center or guard in the NFL.
MO IBRAHIM
Mo Ibrahim leaves the Gophers as the program's all-time leading rusher. He set every rushing record there is to set at Minnesota, including 53 career touchdowns, 24 career 100-yard games and five career 200-yard games. In 41 career games, he ran for a record 4.668 yards and his 53 touchdowns are sixth in Big Ten history. He also set a record with 19 straight 100-yard games.
That's after suffering a torn Achilles to start the 2021 season against Ohio State. Ibrahim is likely a mid to late-round pick, but will make one NFL team very happy.
JORDAN HOWDEN
Jordan Howden came to Minnesota as a walk-on, and will get his life-changing phone call to the NFL at some point this weekend. He played in 58 games and had 49 career starts, finishing with 240 tackles, 5.5 tackles for loss, 20 pass break-ups and four interceptions. One of his career highlights was making the game-sealing interception to beat Penn State in 2019, as part of a historic 9-0 start for the program.
Howden will give an NFL team depth in the secondary.
TERELL SMITH
Terell Smith is one of the feel-good stories with Gophers' football under Fleck. He had a standout freshman season in 2018 with nine starts and 43 tackles. We didn't hear his name much in 2019 and 2020, and he could've transferred. He stuck it out, and last year started all 13 games, finishing with 38 tackles, 4.5 tackles for loss, two sacks, five pass break-ups and two interceptions.
When Smith puts it all together, he can be an impact player at defensive back.
If all four get drafted, that's 17 Gophers' players headed to the NFL under Fleck via the NFL Draft over six years. Also, look for Chuck Filiaga, Axel Ruschmeyer, Tanner Morgan, Thomas Rush, Mariano Sori-Marin and Matthew Trickett to find homes as undrafted free agents.