Gopher women playing hungry in 3-game win streak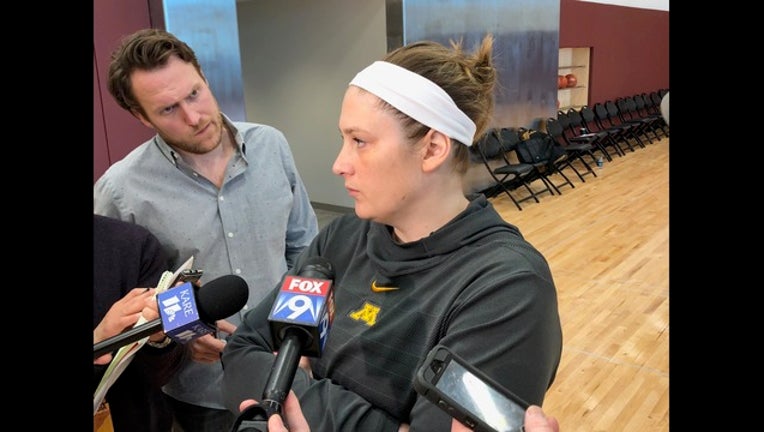 MINNEAPOLIS (FOX 9) - It's amazing what a few weeks and a winning streak can do for the Gopher women's basketball team.
It was a mix of fun and focus on Friday as Lindsay Whalen and the Gophers were practicing ahead of their Sunday match-up with Northwestern at Williams Arena. It was about a month ago when doubt probably started to creep in on the Gophers' season.
Minnesota started the Big Ten season 1-4, with three of the losses coming by at least 16 points. The Gophers ended that skid with a 78-50 win at Wisconsin, then went onto lose another three straight. They finished the front half of the Big Ten slate 2-6, but beat the Wildcats 61-54 in Evanston 10 days ago to end that skid.
That was the start of what's now a three-game win streak for the Gophers with six regular season games left before the Big Ten Tournament. Minnesota beat Rutgers, one of the best teams in the Big Ten, 60-46. They held off a late charge from Indiana Wednesday night in a 65-61 road victory.
They're now two wins away from getting back to .500 in Big Ten play.
"I think we're playing really hard right now. We've deserved to win these games because of how hard we're playing. Putting that extra time in practice and all those things has been great," Whalen said.
With just six games left, the sense of urgency has kicked in for the players. Now is the time to make a run if they want to make the goal of being an NCAA Tournament team become a reality in March.
"I think we're probably the hungriest team in the Big Ten right now," senior guard Kenisha Bell said. "We lost a couple games in a stretch and I think we've been playing with a chip on our shoulder this whole time."
The Gophers have gotten contributions across the board in their three-game win streak. In their win at Northwestern, Bell and Destiny Pitts both played the full 40 minutes and scored a combined 36 points on 50 percent shooting.
The two biggest changes that have resulted in the Gophers' last three wins? They've gone to a smaller lineup against zone defenses to put more shooters on the floor, and senior Irene Perez has had her playing time significantly increase the last four games.
Perez has played at least 33 minutes in four straight games. She played all 40 minutes at Indiana Wednesday night and had one of her best games of the season with 11 points and six rebounds. Perez made consecutive three-pointers to get Minnesota's offense started at Indiana.
"I think the last couple weeks I've been getting more comfortable during practices and during games, and that's why I think the last game I got my best game," Perez said.
The Gophers are also starting to make more shots. In two of their last three wins, they're shooting nearly 40 percent from three-point range. Destiny Pitts is 6-of-16, 37.5 percent, from the perimeter in the last three wins. Over her last five games, she's averaging 17.6 points per game and shooting 44 percent from three-point range.
Whalen hasn't been afraid to make adjustments, and learning on-the-go has been a big part of the Gophers' season so far. She's learned more about herself as a coach this season in the face of adversity and the grind of a Big Ten schedule than anything the hot start to the season could teach her.
"We've got six games left to keep working, but I learned more from than two to three week stretch than any other time this year because it really makes you evaluate and quickly think what you need to do to help your team improve," Whalen said.
The Gophers are 11-4 at Williams Arena and the program is seeking its 700th win on Sunday. They also finish the regular season on the road against two of the best teams in the Big Ten, at Maryland and at Rutgers, before hosting Michigan State in the final game before the conference tournament.
The players know they have to stick to what's been working in the last three wins and maintain a sense of urgency the rest of the season.
"After going on the losing streak that we did, you can't be anything but hungry. So I think that's the biggest thing," Taiye Bello, who averages 9.9 points and 13 rebounds per game, said. "Definitely playing with a chip on our shoulder, and that starts with practicing hard."