Maroon beats Gold 24-17 in Gophers Spring Game at TCF Bank Stadium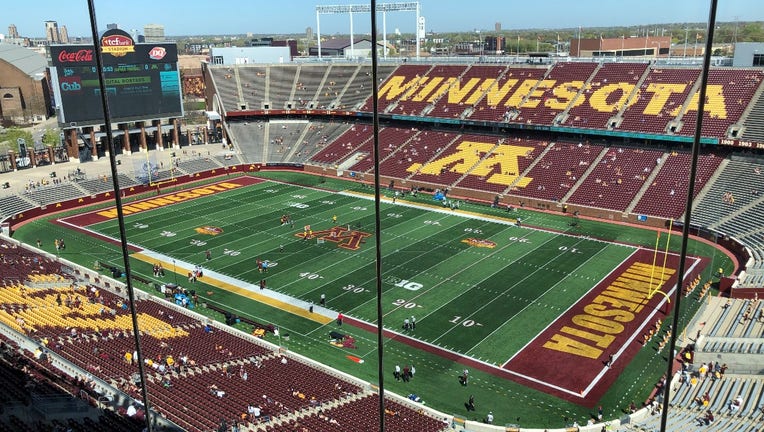 MINNEAPOLIS - P.J. Fleck has spent the University of Minnesota spring football season preaching TGIF. Togetherness, Gratitude, Identity and Focus.
That all came together Saturday in a live game situation with as many as 10,000 fans at TCF Bank Stadium on a perfect afternoon for football as Maroon faced Gold in the annual Spring Game. For Fleck, it couldn't have been a much better day. Every player that could play did, and the game came down to one final play.
With Gold trailing 24-17 and facing a 4th-and-goal from the 3-yard line, Zack Annexstad tried to hit Daniel Jackson on a fade route for the potential game-tying score. Defensive back Terrell Smith had other ideas, and picked it off to seal the win for Maroon and take Goldy's Cup.
That's after Cam Wiley scored from three yards out, winning a race to the pylon to put Maroon up 24-17 with 3:11 to play.
"I saw a lot of development from every single player on this football team. What they have is really special together. I've seen a lot, that was a lot of fun," Fleck said after the game. This is the first time in a year and half that we've been in front of fans, true fans. Just want to thank all of our fans, the 10,000 fans that were here, that was awesome. What a beautiful day here in Minnesota. Just a wonderful day in the state of Minnesota."
Last year's Spring Game was canceled due to the COVID-19 pandemic. Two years ago, it was moved indoors due to a snowstorm. Saturday's game started with guest basketball coaches Ben Johnson and Lindsay Whalen having a three-point shooting contest at the 50-yard line instead of a coin toss.
Quarterback Tanner Morgan smiled when asked after the game about playing in front of fans for the first time since beating Auburn in the Outback Bowl. The Gophers released 10,000 free tickets for the Spring Game, and they were claimed in less than two hours.
"That was elite. First off, the stadium with the game selling out in 90 minutes, filling to 10,000 capacity that we were allowed to have, we can feel the energy that this state has and that Gopher nation has. We love that. It was so fun," Morgan said.
There were 17 players on the roster who didn't play Saturday due to either injuries or rest. The key offensive names included Jacob Clark, Mo Ibrahim, Ky Thomas, Bryce Witham, Brevyn Spann-Ford, Dylan Wright and John Michael Schmitz. Ibrahim, the reigning Big Ten Running Back of the Year, is healthy but didn't play after a limited spring season due to observing Ramadan, which calls for fasting daily from sun up to sun down.
Defensive players out included Jalen Logan Redding, Boye Mafe, Esezi Otomewo, Gage Keys, Josh Aune, and Michael Dixon.
Morgan started for the Maroon team and finished 9-of-17 passing for 148 yards, one passing touchdown to Chris Autman-Belll and a receiving touchdown on a trick play from Michael Brown-Stephens. Autman-Bell finished with four catches for 100 yards and a touchdown, and the Gophers got a touchdown pass from 400-pound offensive tackle Daniel Fa'alele to Ko Kieft, and a big guy short rushing touchdown from Sam Schlueter.
Quarterbacking the Gold team, Zack Annexstad was 14-of-23 for 232 yards and two interceptions. Clay Geary led the Gold team with four catches for 74 yards.
Tyler Nubin led the Maroon defense with seven tackles. Jah Joyner had five tackles and two sacks. Nyles Pinckney had three tackles, including a half tackle for a loss. Calvin Swenson led the Gold defense with eight tackles, and Braelin Oliver had three tackles, including one for a loss.
The Sid Hartman Spring Game MVP's were Autman-Bell, Joyner, Derik LeCaptain and Smith. Fleck was beaming after the game when asked about Joyner and Smith.
"Very encouraged. That's what it's about, create that depth, find out who can be able to perform in that type of pressure situation, who can make plays, who can be a part of this thing as we keep going forward," Fleck said.
The spring season was about the program coming together amid COVID-19, and George Floyd's May 2020 death creating division in the Twin Cities. It was also about creating a higher ceiling, and not having as low of a floor as they move ahead.
"That's what you want to do with your whole football team," Fleck said.
Saturday's annual scrimmage ends the spring football season for the Gophers. They will open the 2021 regular season on Thursday, Sept. 2 against Ohio State at TCF Bank Stadium.