Gerrit Cole wins showdown with Twins' Josh Donaldson after controversial comments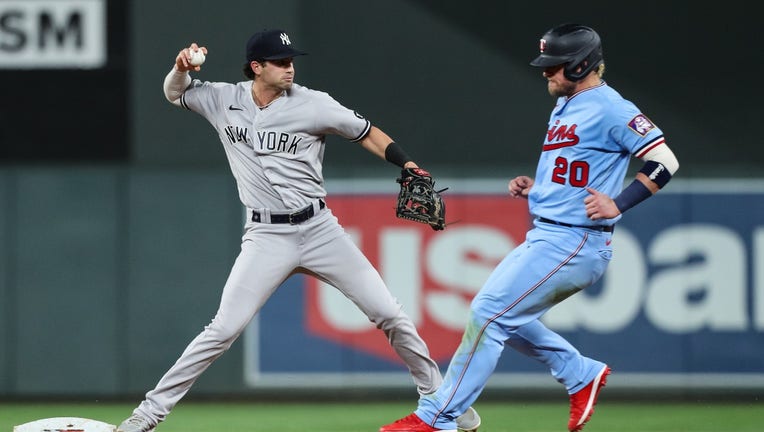 MINNEAPOLIS - There was plenty of build-up as the Minnesota Twins hosted the New York Yankees Wednesday night at Target Field, and it had little to do with where either team stands in the American League.
Last week, Josh Donaldson called out Gerrit Cole for using foreign substances to improve his grip and spin rate to manipulate baseballs. Wednesday, Cole faced Donaldson in a game for the first time since the accusations. There were some that though Cole might throw at Donaldson intentionally after the comments, but that didn't happen. In fact, Cole wanted nothing more than to send him back to his dugout.
Cole won the battle of the night, and it wasn't particularly close. Donaldson struck out on a nasty curve ball in the first inning, then struck out again on a high fastball in his second at bat. He ended the night 0-for-3 after a fly out in the final showdown between the two, and after each strikeout, Cole gave Donaldson an extra stare as he headed back to the dugout.
Cole struck out nine over six innings, allowing just two earned runs as the Twins fell to 24-37 and are now 13 games out of the lead in the AL Central, 61 games into the season.
"He's one of the best pitchers in baseball, and that's why his name is in a lot of different conversations," including a quasi-debate with Twins third baseman Josh Donaldson about whether he's been using illegal substances to increase his spin rate, Twins manager Rocco Baldelli said after the loss. "There's a reason why he's a No. 1 starter and has been for a while now. He's a tough customer."
It didn't help matters that Randy Dobnak had one of his worst outings of the season, allowing eight runs on four homers over 4 2/3 innings. Time is running out for the Twins, and we haven't hit July yet.
KENTA MAEDA MAKES REHAB START WITH SAINTS
Kenta Maeda isn't officially back from the injured list, but he got one step closer after making a rehab start with the St. Paul Saints Wednesday night. Maeda had four solid innings, allowing one run on one hit, a home run, while striking out five and walking just one.
Byron Buxton ended up not playing Wednesday night, but it was not injury-related. The Saints held him out of the lineup after a downpour at CHS Field delayed the game start by more than an hour. Buxton was originally in the lineup in center field, then got moved to designated hitter before being pulled from the lineup. The Twins and Saints weren't about to take the risk of Buxton getting hurt during a rehab assignment on a wet outfield.
In his first game back Tuesday, Buxton reached base three times, including hitting a triple off the wall in right center.