Former Vikings coach Bud Grant's memorial service: How to watch on FOX 9, streaming
MINNEAPOLIS (FOX 9) - Former Minnesota Vikings head coach and Hall of Famer Bud Grant will be remembered at a public memorial service at U.S. Bank Stadium on Sunday, May 21. 
You can watch his funeral live on FOX 9 starting at noon on Sunday and streaming in the player above, as well as on FOX9.com, on the FOX 9 app and FOX 9's YouTube page. The public memorial service is a free, ticketed event hosted by the Minnesota Vikings.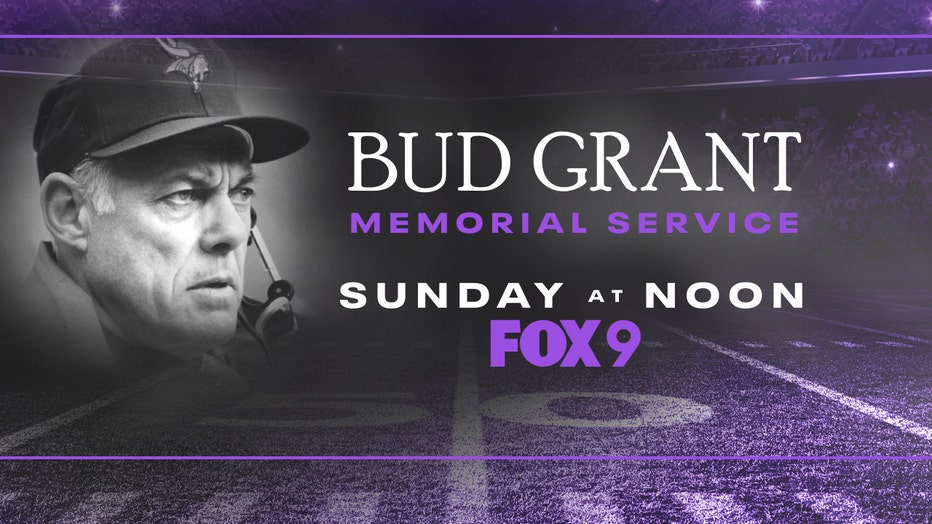 Remembering Bud Grant
Grant died on March 11 at age 95. Grant spent 18 seasons as the Vikings' head coach, from 1967-83 and 1985, and led the franchise to four Super Bowl appearances and 11 division titles. He's also been a consultant for the Vikings since 1986. Grant was the NFL Coach of the Year in 1969, is a member of the Vikings Ring of Honor and is also on the Vikings' 25th and 40th anniversary teams. Grant is also one of the 50 Greatest Vikings.
Grant's life after coaching kept him around the Vikings, where he still has an office resembling the one he had decades ago. And he still tried to boost the team, like when he did the coin toss at a January playoff game, determined to intimidate the visiting Seahawks when he walked out in short sleeves despite a wind chill being around 30 degrees below zero. 
He was a symbol of "Minnesota grit," according to U.S. Sen. Amy Klobuchar who was at the Vikings-Seahawks game. And that grit extended to his financial life. He was a tough negotiator, even at the garage sales he hosted at his home for several years. He didn't go for haggling, but he welcomed memorabilia seekers with an open door.
Friends remember Grant's dedication to his family and his love of the outdoors. And they know most people never saw the softy he could be with his inner circle.