Former Minnesota Vikings head coach Bud Grant dies at 95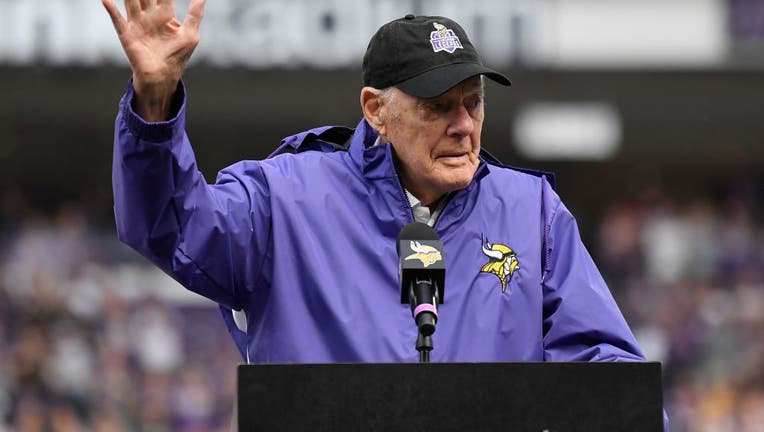 article
(FOX 9) - The former Minnesota Vikings head coach and Hall of Famer Bud Grant died Saturday morning. He was 95 years old.
The Minnesota Vikings announced the former coach's death Saturday, adding they were devastated. 
"We are absolutely devastated to announce legendary Minnesota Vikings head coach and Hall of Famer Bud Grant has passed away this morning at age 95," the Vikings said in a tweet. "We, like all Vikings and NFL fans, are shocked and saddened by this terrible news."
Grant spent 18 seasons as the Vikings' head coach, from 1967-83 and 1985, and led the franchise to four Super Bowl appearances and 11 division titles. He's also been a consultant for the Vikings since 1986.
Grant was the NFL Coach of the Year in 1969, is a member of the Vikings Ring of Honor and is also on the Vikings' 25th and 40th anniversary teams. Grant is also one of the 50 Greatest Vikings.
Grant was a three-sport star at the University of Minnesota, earning nine letters in football, basketball and baseball. He was a two-time All Big-Ten pick in football. He was also a draft choice in both the NBA and the NFL, being selected in 1950 by both the Philadelphia Eagles and Minneapolis Lakers.
In one of his more iconic moments after football, Grant came on the field at TCF Bank Stadium for the pregame coin toss as the Vikings hosted the Seattle Seahawks in an NFC Playoff game in 2016. Despite wind chills well below zero, Grant was on the field in a polo golf shirt and pants, embracing the bone-chilling conditions.
Grant had a career record of 168-105-5 as an NFL head coach, including a 10-12 mark in the postseason.
Mark, Zygi and the Wilf Family released a statement on Grant's death saying in part, "No single individual more defined the Minnesota Vikings than Bud Grant. A once-in-a-lifetime man, Bud will forever be synonymous with success, toughness, the North and the Vikings. In short, he was the Vikings."