2023 FOX 9 Town Ball Tour schedule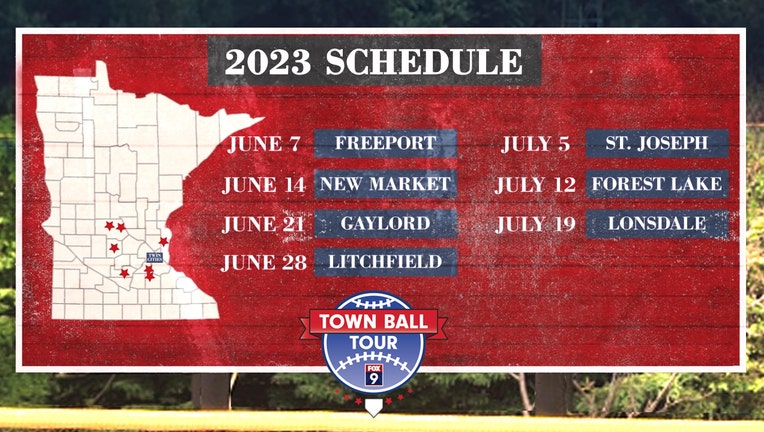 article
MINNEAPOLIS (FOX 9) - The lineup is set for the 2023 FOX 9 Town Ball Tour. 
Leading off, FOX 9 is headed northwest of the Twin Cities to the Freeport Black Sox on June 7, where the Black Sox will take on their biggest rival, the Avon Lakers, at Black Sox Park. 
Stop No. 2 on June 14 is south of the Twin Cities, in New Market, when the Muskies take on the New Prague Orioles at the park that's called "the Fish Bowl."
The tour continues west in Gaylord on June 21, when the Islanders battle the Brownton Bruins. 
To round out the month of June, the Town Ball Tour stops in Optimist Park on June 28 to the summer's state tournament host the Litchfield Blues as they host the Maple Lake Lakers. 
July starts with a bang, as FOX 9 will be live in St. Joseph on July 5 as the Joes battle the Avon Lakers at Schneider Park. 
On July 12, the Forest Lake Brewers will host the Anoka Bucs at Schumacher Field. 
Rounding out the 2023 Town Ball Tour is Lonsdale on July 19, when the Aces go heads up against the Norwood Indians at Trenda Memorial Park. 
FOX 9 will be broadcasting live from the ballparks beginning at 5 p.m., with post-game coverage continuing on FOX 9 News at 9 and 10 p.m. The FOX 9 crew will have giveaway bags and yard games for everyone to enjoy.
*All dates are Wednesdays
June 7: Freeport Black Sox vs. Avon Lakers
June 14: New Market Muskies vs. New Prague Orioles
June 28: Litchfield Blues vs. Maple Lake Lakers
July 5: St. Joseph Joes vs. Avon Lakers
July 12: Forest Lake Brewers vs. Anoka Bucs
July 19: Lonsdale Aces vs. Norwood Indians
The latest on the FOX 9 Town Ball Tour can be found here.