Wisconsin Primary Election: GOP's Michels wins governor's race
MILWAUKEE - Tim Michels, a wealthy businessman endorsed by former President Donald Trump, won the Republican primary for Wisconsin governor on Tuesday and will face Democratic Gov. Tony Evers in a contest that could reshape elections in the marquee battleground.
Michels defeated former Lt. Gov. Rebecca Kleefisch, who was endorsed by former Vice President Mike Pence and had backing from establishment Republicans, including ex-Gov. Scott Walker.
In her concession speech, Kleefisch said, "The fight now is truly against Tony Evers and the liberals who want to take away our way of life."
Both Michels and Kleefisch falsely claimed the 2020 presidential election was rigged, a lie Trump has pushed in an effort to overturn his loss to Joe Biden. Michels said decertifying the results of the 2020 contest was not a priority but said "everything will be on the table." He supports other changes to voting and elections, including dismantling the bipartisan commission that runs Wisconsin elections.
The governor's race was the latest proxy war between Trump and Pence, one-time partners who have backed opposing candidates in other swing states as they try to push the GOP in different directions.
Michels' launched his campaign in April. Michels has said in the past that he is a conservative businessman with outsider experience. 
Michels co-owns Michels Corp., a construction company, with more than 8,000 employees that builds pipelines, bridges and electric utilities. Michels is also an Army veteran.  
Four days before the primary, Trump held a rally in Waukesha County in support of Michels. Throughout his campaign, Michels has considered himself as someone with outsider experience with plans to fix Wisconsin's economy using his business background. In mid-July campaign finance reports revealed Michels spent nearly $12 million of his own money in his campaign.  
SIGN UP TODAY: Get daily headlines, breaking news emails from FOX6 News
Tuesday's outcomes have far-reaching consequences beyond Wisconsin, a state that is almost evenly split between Republicans and Democrats and where 2022 will be seen as a bellwether for the 2024 presidential race. The person elected governor this fall will be in office for the presidential election and will be able to sign or veto changes to election laws passed by the Republican-controlled Legislature. The next governor and U.S. senator also may sway decisions on issues from abortion to education and taxes.
Evers has made voting and elections a focus of his own campaign, telling voters he's the only candidate who will defend democracy and "we are that close to not having our vote count in the state of Wisconsin."
Both Michels and Kleefisch said overturning the 2020 election results was not a priority. But they said they would dismantle the bipartisan commission that runs Wisconsin elections and would support prohibitions on voters having someone else turn in their absentee ballots, as well as ballot drop boxes located anywhere other than staffed clerk offices.
Michels pledged that "we are going to have election integrity here in Wisconsin." He also said he will bring "law and order" back to Wisconsin, criticized Evers' handling of schools and blamed Biden for rising prices.
This isn't the first time Michels dabbled in politics. He ran for U.S. Senate 18 years ago, but he lost.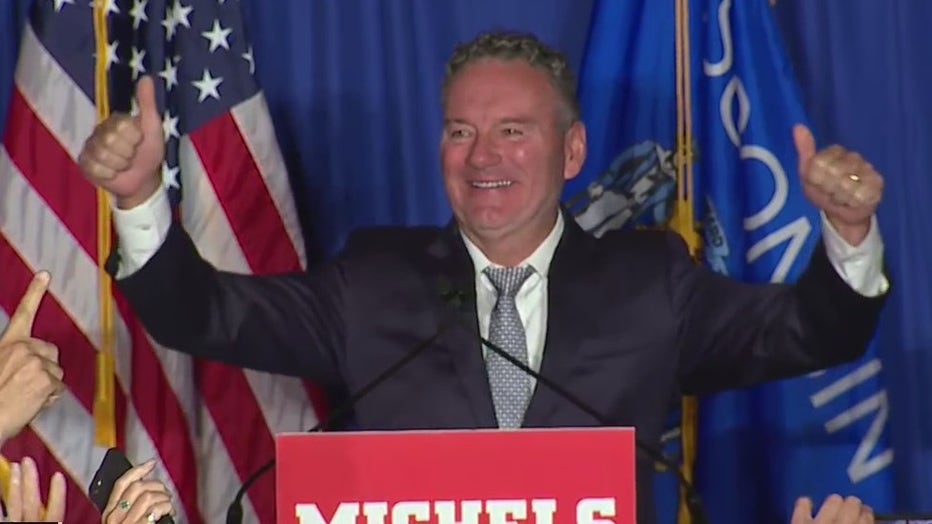 Michels will face Democrat incumbent Gov. Tony Evers in the general election on Tuesday, Nov. 8.
The Associated Press contributed to this report.
Michels' statement
"Thanks to you, we took on the Madison Establishment and won. Tonight we celebrate, but then, first thing tomorrow, let's get to work. I love this great state, but because of the failed leadership of Tony Evers and Joe Biden, Wisconsin currently is a mess. In November, Wisconsin is going to tell Tony Evers he is non-essential."
Evers' statement
"After a scorched earth primary that's seen constant attacks and a dizzying race to the radical right, the Republican Party has chosen the most extreme and divisive nominee possible, one that will tell Donald Trump anything just to keep his endorsement. From abortion and voting rights, to gun safety and public education — Tim Michels has staked out the most extreme positions possible, with the goal of dividing our state and pitting neighbors against one another. 

"Tim Michels wants to enforce an abortion ban from 1849 that has no exceptions for rape or incest, and he's previously said it's 'not unreasonable' for a rape victim to be forced to give birth. Michels has said he's open to overturning election results if he doesn't like the outcome, he's come out against common sense gun safety legislation that would protect our kids, and Michels has even said it was 'insanity' to invest more money in our public schools. 

"While Tim Michels wants to divide our communities, Gov. Evers is committed to bringing people together and working to address rising costs, help small businesses, expand high-speed internet, and give our kids the education they need to thrive. There's a lot at stake this November, and Gov. Evers will always do the right thing for our state."