Video: Crystal clear ice forms on Lake Superior
DETROIT (FOX 2) - We're more than halfway through winter and in Michigan's Upper Peninsula, Lake Superior has frozen solid several inches thick, making it possible to not only walk on top of the Great Lake - but see to the bottom.
In a video uploaded to YouTube by Chelsey Lynn Tweedale, you can see clear to the bottom of the lake as she seemingly walks on water.
According to Tweedale, she said most locals have never seen anything like this.
"Many lifelong local residence have never seen the lake freeze over in such a manner," Chelsey Lynn Tweedale told Storyful.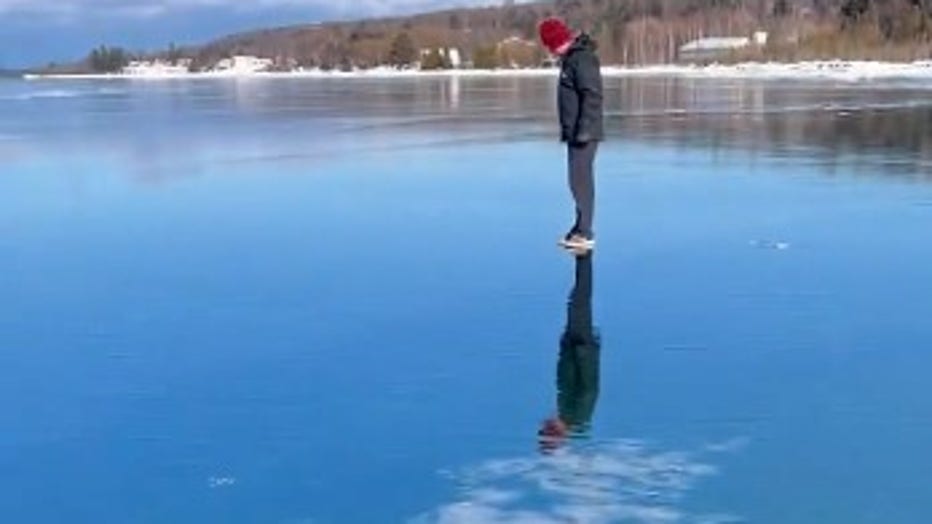 A man walks on Lake Superior as it freezes clear on Feb. 1. Credit: Chelsey Lynn Tweedale via Storyful
The lake froze over like this on Feb. 1 and she took the footage, saying she's never seen it thick enough to walk on and clear enough to see through.
"[The] ice was approximately five-six inches thick at the time, making it stable enough for people to walk, ice skate, and ice fish on," she said.
This phenomenon has happened before in Michigan. Back in 2017, Andre Poineau was in Boyne City with temperatures right at zero and zero wind. That made it a perfect time to see to the bottom of Lake Michigan. He said he's only seen it happen a few times in his 50+ years.