Minneapolis could give Uber/Lyft drivers what the governor wouldn't
MINNEAPOLIS (FOX 9) - Uber and Lyft drivers are hoping the Minneapolis city council will give them what Governor Tim Walz wouldn't — a guaranteed raise.
A council committee voted Tuesday afternoon to move forward with a rideshare minimum wage ordinance, probably the drivers' last change for change in 2023.
They got a bill through the legislature in May, but Gov. Tim Walz vetoed it with a promise to think it through for a new bill next year.
That could actually clash with what drivers hope will happen here in Minneapolis.
Minneapolis Uber and Lyft drivers say they've watched their wages drop by 60% over the last nine years while almost every cost associated with driving has gone up.
"I took a gentleman from downtown Minneapolis to the airport a couple days ago for $60," one driver told council members. "I was paid $18. Is that fair? No. I'm providing the vehicle. I'm providing the gas. I'm putting in the time."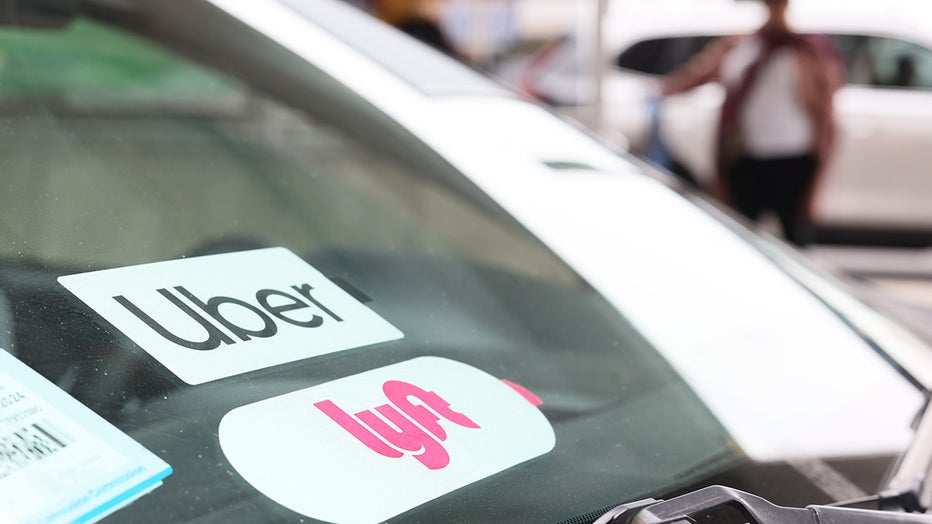 Lyft and Uber decals are seen on a car in the pick-up area at JFK Airport on April 28, 2023 in New York City. (Photo by Michael M. Santiago/Getty Images)
They're now asking the city of Minneapolis to set a minimum wage of more than double what they're getting right now, following the examples of New York City and Seattle.
In New York, the baseline is $1.31 per mile and 56 cents per minute.
In Seattle, drivers are guaranteed $1.50 per mile and 64 cents per minute.
The Minneapolis proposal would set a minimum rate of $1.40 per mile and 51 cents a minute.
"We're hard workers and we need the city to help us," said driver Marianna Brown.
Uber and Lyft say they raised prices for riders in response to new minimum wages and they're fighting the Minneapolis ordinance just as they did the bill in the state legislature.
They have support from a second group of drivers who argue the ordinance won't do much to help them.
"This is a waste of time in my view and it is actually not helping us at all," said Omar Ahmed of the group Minnesota Rideshare Drivers Association. "This ordinance also resembles the one the governor vetoed."
MRDA members urged the council to cooperate with the governor's task force, which is due to issue a report in January, in time to propose a new state law that could potentially pre-empt any city ordinance.
The full city council is expected to vote on the minimum wage proposal next week.
An attorney for the drivers tells me they have the votes and he's hopeful Mayor Jacob Frey will be on board as well.
"Mayor Frey supports drivers being paid more," his spokesperson told Fox 9 in an email. "How to get there is very complex and requires more information. This ordinance has moved through the legislative process with little deliberation, and there is essential information needed — including from TNCs — to make good, transparent policy decisions. The mayor will continue discussions with stakeholders before making a final decision."