U.S. Sen. Amy Klobuchar qualifies for Democratic debate in November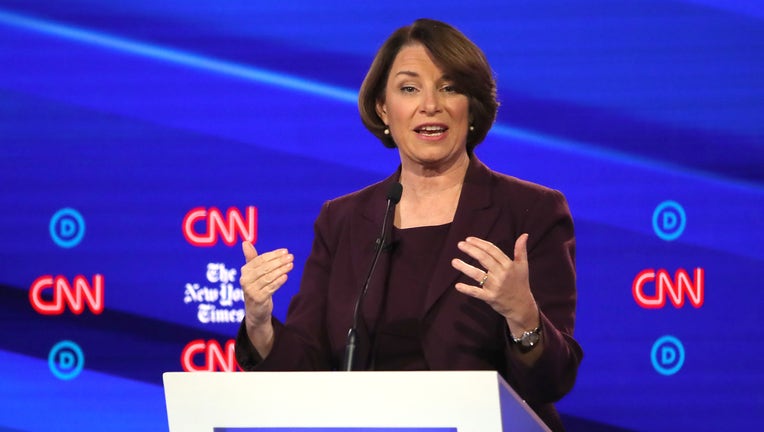 EDEN PRAIRIE, Minn. (FOX 9) - U.S. Sen. Amy Klobuchar has qualified for the Democratic debate in November, as her presidential campaign sees an uptick in donor contributions and a small bump in polls.
Klobuchar got 3 percent in the national Quinnipiac University poll released Thursday morning, placing sixth. Under the Democratic National Committee's debate criteria, that's the fourth qualifying poll where Klobuchar has reached 3 percent support.
All candidates need to meet the polling requirement and reach 165,000 unique donors, a mark Klobuchar's campaign said she achieved weeks earlier.
"The nomination is a long shot for Sen. Klobuchar, but she's still in the game," said University of Minnesota political science professor Kathryn Pearson in an interview.
Klobuchar is the ninth candidate to qualify for the Nov. 20 debate, which will be held in Georgia. The debate will feature an all-female panel of moderators, host MSNBC said Wednesday.
Klobuchar took in $2.1 million in contributions over the week since the Oct. 15 debate, compared with $4.8 million throughout the entire three months that ended Sept. 30, her campaign said this week.
The Minnesota senator was in the spotlight more often than in previous debates, as she pushed back against U.S. Sen. Elizabeth Warren's health care and college affordability plans. 
At one point, Klobuchar prodded Warren by saying "the difference between a plan and a pipe dream is something that you can actually get done."
Far from catching fire, Klobuchar is doing just enough in the polls to advance. She still polls well behind the other two centrist candidates in the race, Joe Biden and Pete Buttigieg.
"It makes it very difficult, especially in Iowa," Pearson said. "Buttigieg is doing well in Iowa and Sen. Klobuchar all along has really banked a strategy on doing well in the Iowa caucuses."
The Democratic field narrowed to 18 candidates Thursday when U.S. Rep. Tim Ryan of Ohio quit the race. Ryan has not qualified for a debate since July.
Biden led a CNN national poll released Wednesday with 34 percent. Warren was second at 19 percent.
But a Quinnnipiac University national poll released Thursday showed the opposite: Warren had taken a lead over Biden, 28 percent to 21 percent.
Klobuchar placed sixth in both polls, with 3 percent support.