Truffle Hill Chocolates in Tonka Bay burglarized, all candies destroyed
EXCELSIOR, Minn. (FOX 9) - Just in time for the Christmas rush, a real-life Scrooge has all but put an abrupt end to a popular Tonka Bay chocolate shop's busiest season. 
Truffle Hill Chocolates, affectionately known as the chocolate house by locals, was targeted by vandals Tuesday night. Owner Marshall Morehead told FOX 9 someone broke into the shop and not only stole a computer, $200 cash, and some chocolate, but sprayed three fire extinguishers everywhere. The chocolate shop posted on Facebook on Wednesday saying the act ended up "ruining all of our products."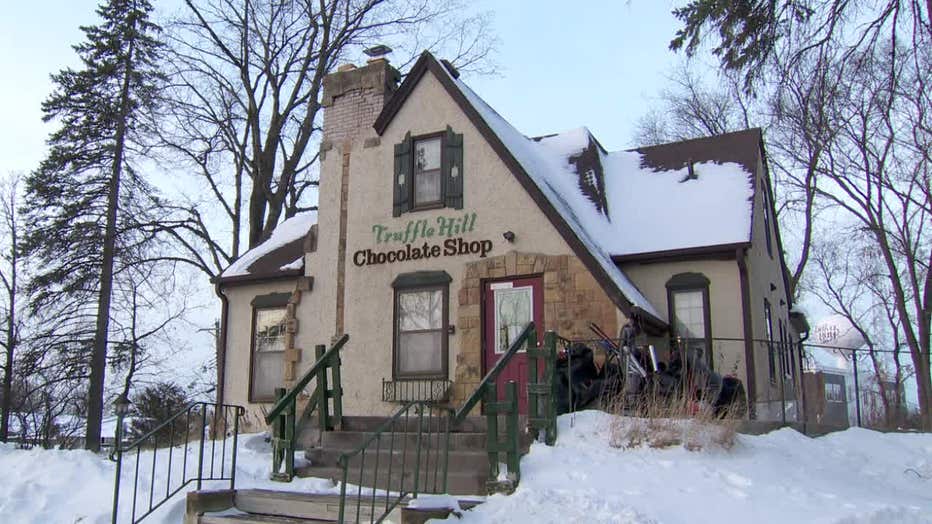 Truffle Hill Chocolates in Tonka Bay.
"If someone wanted to come in and steal a computer, some money and some chocolate that's fine – not fine but it happens," said Morehead. "But, to come in and do the damage that they did was next level for me."
Due to the chemicals, they had to throw all their product away. Morehead estimates they threw away 35 trash bags full of chocolate and other ingredients with a value of more than $35,000.
The timing is devastating for the nearly three-decade-old business, as the first few weeks in December is the shop's busiest time of year.
"It really probably is the worst timing because if it was a few weeks ago we would have been able to build up that inventory. And if it was a few weeks from now we'd be so close to Christmas that we'd be over our season," said Morehead. "The timing is a real challenge no question about it."
Morehead is still determined to save the season. They will be cleaning through the weekend, hoping to restart production on Monday. They are aiming to reopen the store by December 9. 
He says the best way to show support for the local business is to come in and shop when they re-open.
The South Lake Minnetonka Police Department told FOX 9 on Thursday that it's an "active and ongoing investigation," noting it can't say more except it responded to a report of a burglary at the chocolate shop at 8:59 a.m. Wednesday. In a news release, police said officers noticed a broken window and "significant damage" to the inside of the store. 
Authorities are also asking anyone who may have seen anything during the overnight hours of Nov. 29-30 to contact police at 952-474-3261.