Trans woman violently assaulted at Minneapolis LRT station
MINNEAPOLIS (FOX 9) - Two men have been charged after police say they were involved with the violent assault of a trans woman at a Minneapolis light rail train station on Monday.
Twenty-three-year-old Kevin York Jr. and 19-year-old Keaten Morris are charged with aggravated robbery and assault for the bloody attack Monday morning at the Lake Street light rail train station.
According to criminal charges, Metro Transit police responded around 9:45 a.m. to the LRT station for the report of a woman down with "visible brain matter" on the ground. Security video also showed the woman being pushed down stairs and assaulted while on the ground by three people.
At the scene, officers say they found the victim with a serious injury to the back of her head and actively bleeding, along with numerous other injuries. In the charges, officers said they had concerns that the attack was driven by bias because the victim was transgender. However, the men are not currently facing charges for a bias attack.
Speaking with police, the victim was able to say "they hit me" but was unable to make complete sentences.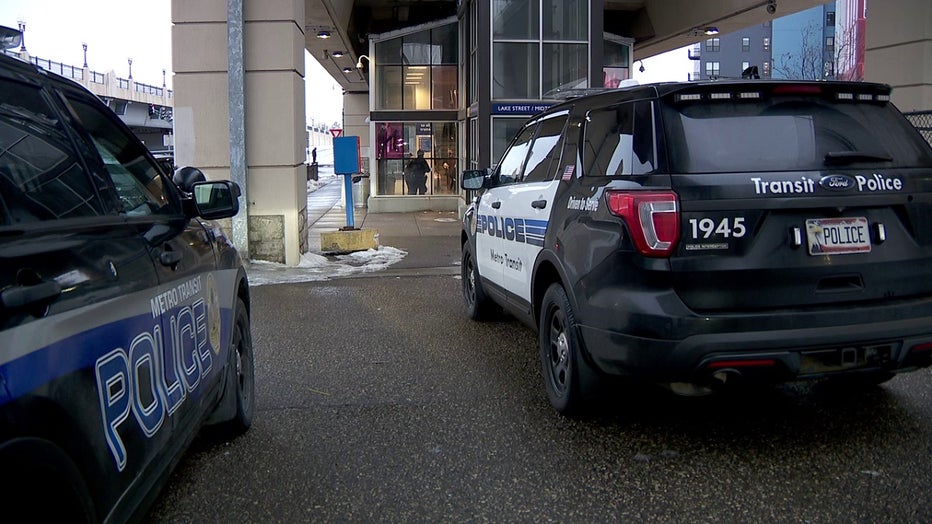 Metro Transit police on patrol at the Lake Street LRT station. (FOX 9)
The charges state that two of the three suspects were seen climbing onto the southbound train and video showed them getting off at the LRT VA Medical Center Station.
According to the charges, officers at that station were able to track down two men, later identified as Morris and York. In the charges, police say York was found with a woman's clutch purse in his possession. Police also say both men were carrying multiple bags.
As the two men were being transported to jail, officers say York asked about the condition of the victim. When told she was stable, the charges state York said he was "glad she was okay."
According to the charges, speaking with officers, York also claimed the victim was "slashing at people" with what he believed was a box cutter. The charges don't include any information that verifies that claim, however.
Police say the victim arrived at the hospital in critical condition with a CT scan showing a broken rib, a collapsed lung, and internal cranial bleeding. According to the charges, doctors were able to stabilize the victim after the attack, but the full extent of her injuries is not clear.
It's also not clear if officers were able to locate the third person reportedly involved in the attack.
Reaction to assault
Kat Rohn is the executive director of Outfront Minnesota, an LGBTQ advocacy group, and she says in the wake of Monday's attack, she's heard from many in the community who are concerned and looking for protection.
"Members of our community are feeling deeply vulnerable and feeling like we're being attacked on many levels," Rohn continued. "I think people are feeling very vulnerable right now, and I think this heightens that, and it just raises awareness of the risk that are still faced by LGBTQ folks; and particularly trans women of color who are experiencing violence and discrimination on a regular basis within our community."
Metro Transit sent FOX 9 this statement on Wednesday:
"While the investigation into this horrible assault is underway, we want to reiterate our commitment to addressing the public safety concerns that have been highlighted by this incident, and to improving conditions at the Lake Street/Midtown Station in particular. Police will continue to proactively patrol and remotely monitor this location, and we are advancing plans to expand our official presence on transit by bringing security officers to this station and other boarding areas later this year. We recognize that this incident is particularly disturbing to the LGBTQ+ community. As an organization, we denounce hate in all its forms and will persist in our efforts to provide a safe and welcoming system for all."