St. Paul cancels re-plowing effort with another round of snow expected
ST. PAUL, Minn. (FOX 9) - An effort to re-plow some city streets in St. Paul that was underway this week is being cancelled as the Twin Cities is bracing for another round of winter weather.
With snow in the forecast overnight, St. Paul Public Works says it will be forced on its standard plowing efforts across the city. Crews will be working overnight to plow and salt. City officials also say a snow emergency could be issued on Thursday.
Before the cancelation, things were already going slow for the re-plowing effort.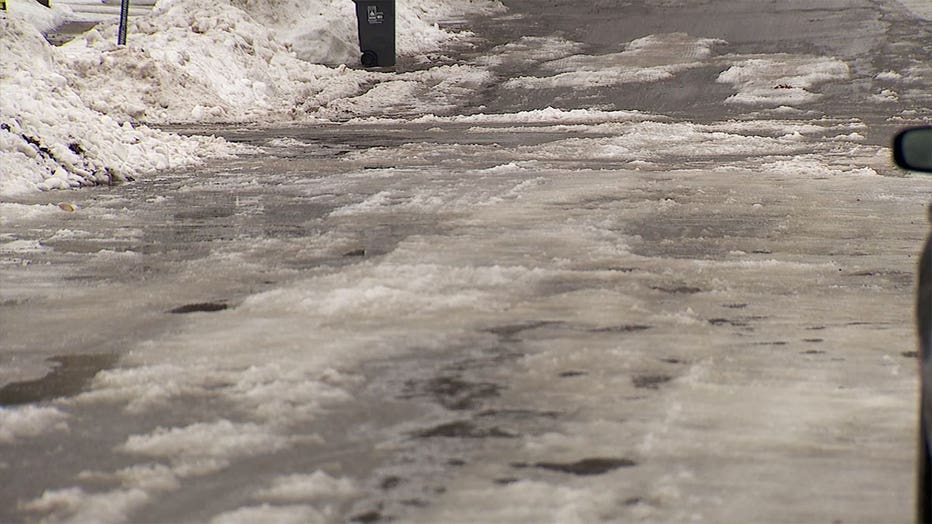 The City of St. Paul is working to clear up some slushy side streets this week. (FOX 9)
St. Paul re-plowing apology, explanation offered from public works director
St. Paul Public Works Director Sean Kershaw is just as upset as you are with the incomplete and insufficient re-plowing of the city's streets. 
Kershaw published a social media apology to St. Paul residents on Wednesday, the morning after the first day of a snow removal and street plowing effort that falls between the early week rain and melting and the late week snow that's on the way.
"Hey everyone. I want to be as accountable and transparent as possible, and apologize because we only finished 2/3 of our EW routes yesterday," Kershaw posted to Twitter. 
He followed his apology with an explanation of what went wrong and what public works is doing.
"The biggest reasons were weather and totally new routes. We had to pull 15% of our staff to address overnight snow on arterials, and sewer staff had to focus on opening storm drains from all the rain. We were using totally new routes, which slowed the start and took longer than we expected."
St. Paul residents did their part, moving cars as instructed, even though it wasn't a snow emergency. 
"On some streets, like my own, the impact of the work was not clear or acceptable," Kershaw wrote. "The public did their part – moving their cars. We are working today to do our part. We are still asking people to move their cars from the south side of EW streets. Crews are better staffed  and getting an earlier start. We are coaching drivers on improving impact. We will adjust Thurs/Fri schedules if needed based on predicted snow, including how and if we can go back to the north side of EW streets."
Kershaw takes the blame, but asks for patience.
"I'm accountable for this as it was a new strategy," he wrote. "Drivers and their supervisors are working overtime to get this done.  Please be patient with them, and I apologize that we didn't meet our goals or your expectations. This is important work."
Before the plowing event, Kershaw told FOX 9 this is the first time the city has done a non-snow emergency plowing event like this. They need to get the work done to ensure emergency crews can get through streets and that residents have enough on-street parking. 
"Part of what we are trying to avoid is if the snow continues like it has so far, is to have a residential parking ban where we ban parking on one side of the streets," Kershaw said.