Phishing email appears as Google Docs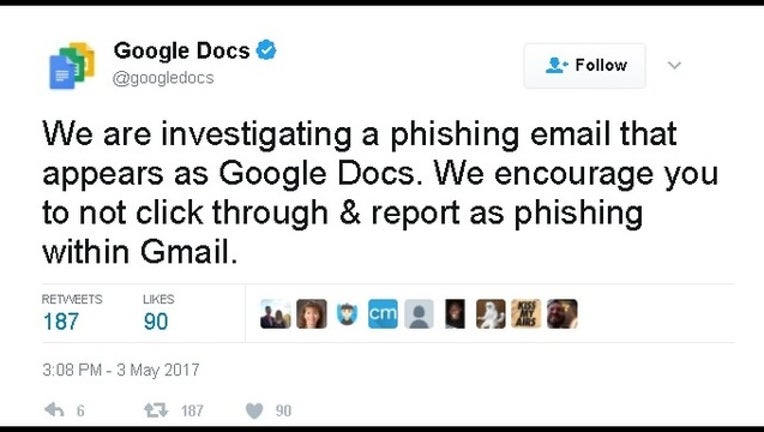 article
An apparent phishing attempt is blasting email accounts with a solicitation to open a Google Docs documents. In many case, the emails are coming from familiar names people already in your contacts.
"We are investigating a phishing email that appears as Google Docs," the company posted on it Google Docs associated social media accounts. "We encourage you to not click through & report as phishing within Gmail."
Wednesday afternoon, the Fox 9 newsroom received an email with a shared Google Doc from the Pierce County, Wisconsin Sheriff. The sheriff's office immediately followed up with a warning that the email was not legitimate and was a possible virus.
The Montevideo, Minnesota Police Department also shared a warning about the phishing attempts: "There is a Google Docs virus going around. The email comes from someone that you know and asks you to open the Google Drive to see it. It is a scam and will infect your computer. Just delete it (then delete it out of your trash)."
Some of the emails, including several received by our newsroom, are addressed to hhhhhhhhhhhhhhhh@mailinator.com.
According to reports, clicking the link within the email will take users to a Google page that requests access permissions across your Google accounts, which would give the people behind the phishing scheme access to your personal data.
WHAT IS PHISHING? Phishing attacks are potentially one of the most destructive and most common types of cyber-attacks. With phishing attacks, hackers try to gain remote control over your computer, tablet or smartphone by sending you emails that appear to be legitimate but actually hide malware and malicious programs in the background. Hackers use deceptive techniques to trick you into downloading infected attachments or click on links pointing to bogus websites all in an attempt to circumvent our firewalls and gain direct access to your internal networks.
LOWE'S COUPON WARNING: A Facebook post has also been circulating, which claims to be an official Lowe's coupon for Mother's Day. The fake coupon is for $50 dollars. After clicking on the link, Facebook users are taken to a web page that looks like the official Lowe's site, but is actually a fake page attempting to steal your personal information. Once on the fake page you are asked to answer a survey. Lowe's has made it clear on their official Facebook page that this is fake: "These coupons are not offers extended by Lowe's. It is a scam and Lowe's is unable to honor the coupon."
FOX 9 INVESTIGATORS: Cyber-security flaw sleuths, keeping businesses safe