New Minneapolis Police leadership team announced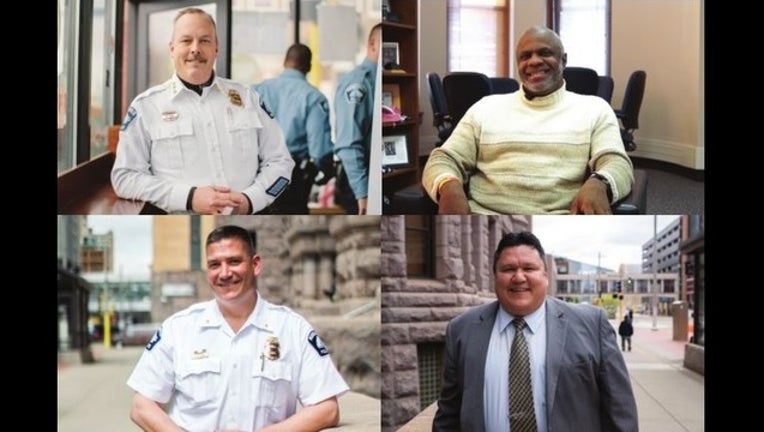 MINNEAPOLIS (KMSP) - Newly sworn-in Minneapolis Police Chief Medaria Arradondo is wasting no time getting started in his new role, installing a new leadership team Monday to take over the department's front office.
The six positions take effect Sept. 3, and include the Assistant Chief, Chief of Staff, Deputy Chief of Investigations, Deputy Chief of Professional Standards, Commander of the Juvenile Division and Commander of a new unit, the Technology & Support Services Division.
The leadership team will now be comprised of:
Mike Kjos as Assistant Chief
Kjos steps into Arradondo's old role as a a 29-year veteran of the force and former supervisor in the 1st, 3rd and 4th precincts. Most recently, he's served as a Deputy Chief of the Patrol Bureau. 
Art Knight as Chief of Staff
Knight is a longtime investigator who's worked in various roles, including as a Lieutenant in the 4th precinct and head of the MPD's Procedural Justice Team, which is tasked with training officers on police-citizen interactions.
Erick Fors as Deputy Chief of Investigations
With various roles in various departments since his start in 1998, including a stint as a member of the Crisis Intervention Team, Field Training Officer, Backgrounds Investigator, Juvenile Investigator and Commander of the Violent Crimes Investigations division, Fors has served in every precinct except the 3rd. He will now oversee all investigations, as well as the Police Activities League and School Resource Officer Team. 
Henry Halvorson as Deputy Chief of Professional Standards
An investigator in various departments over the course of his 25-year career, Halvorson is also a leader in the Native American Law Enforcement Summit. He takes over most internal aspects of the department, including Traning, Internal Affairs, Property, Evidence and Records, among others.
Bruce Folkens as Juvenile Division Commander
 A former Assistant Chief himself, Folkens will take over the new department.
Travis Glampe as Technology & Support Services Division
Glampe served as Deputy Chief of Professional Standards under former Chief Janeé Harteau, and takes over another new department under Arradondo.