US proposes changes that would cut payments for many student loan borrowers — here's who would benefit
WASHINGTON - With President Joe Biden's student debt cancellation facing an uncertain future, the U.S. Department of Education on Tuesday announced proposed changes that would cut the cost of federal student loan payments, particularly for those with low incomes.
Biden in August announced his sweeping plan to greatly reduce or eliminate student debt for 40 million Americans, which has faced legal challenges from conservative opponents and is now before the U.S. Supreme Court. 
RELATED: Student loan forgiveness: What to know if you've applied for relief
In the meantime, the repayment plan changes could also provide a powerful tool to make college more affordable, according to some education experts. 
If it's finalized, the proposal would create "the most affordable income-driven repayment (IDR) plan that has ever been made available to student loan borrowers," the Education Department said. 
In addition to potentially lowering monthly payments, the finalized plan would create an easier path to forgiveness, and a promise that unpaid interest will not be added to a borrower's loan balance.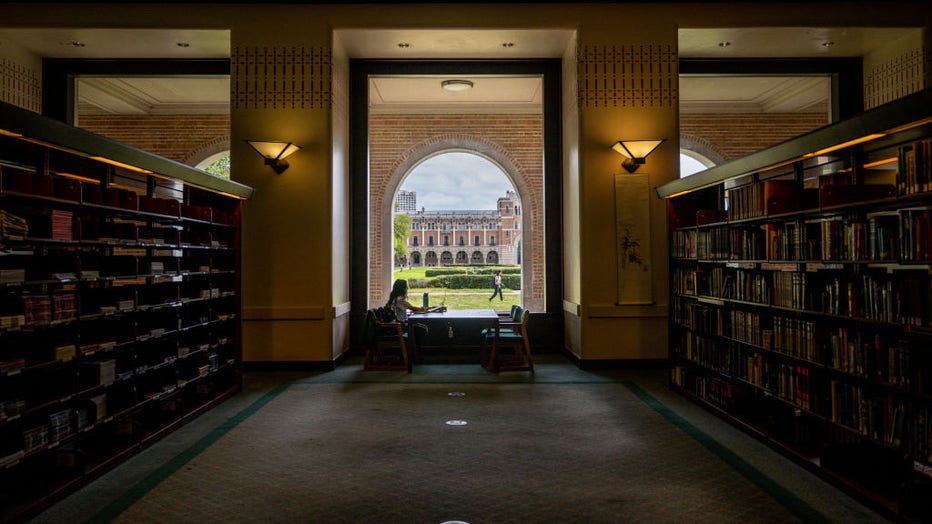 FILE - A person studies in the Rice University Library on Aug. 29, 2022, in Houston, Texas. (Photo by Brandon Bell/Getty Images)
Supporters see the proposal as a significant stride toward college affordability. Some say it's so generous that it approaches free community college — a campaign promise that Biden has long pushed but failed to deliver.
Opponents, meanwhile, have criticized the revamped plan as an unfair handout with a steep price tag. The Biden administration estimates the repayment plan would cost nearly $138 billion over the decade, and some critics have put it closer to $200 billion.
What are income-driven repayment (IDR) plans, again?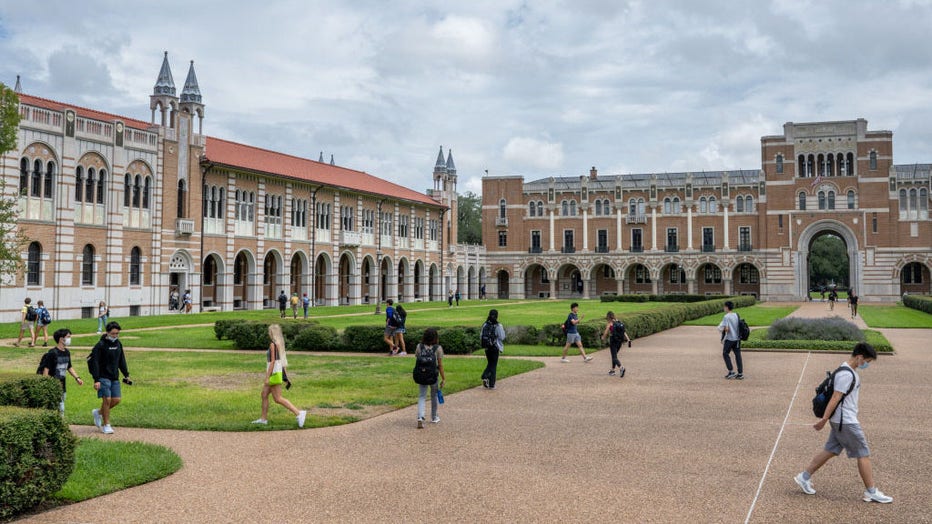 FILE IMAGE - Students walk to class at Rice University on Aug. 29, 2022, in Houston, Texas. (Photo by Brandon Bell/Getty Images)
Income-driven repayment plans are one of several payment options offered by the federal government. 
There are currently more than 9 million borrowers enrolled in IDR plans, a program created in 1994 that was meant to provide a safety net for people who struggle to repay student loans. The program currently offers four repayment options that provide reduced monthly payments based on income and family size:
Revised Pay As You Earn Repayment Plan (REPAYE Plan)
Pay As You Earn Repayment Plan (PAYE Plan)
Income-Based Repayment Plan (IBR Plan)
Income-Contingent Repayment Plan (ICR Plan)
Depending on the plan, the borrower's remaining balance is supposed to be automatically forgiven after 20 or 25 years.
"In a nutshell, what it's designed to do is help make student loan payments easier to keep on top of, especially for those who exhibit some sort of financial need," Jacob Channel, a senior economic analyst and student debt policy expert for LendingTree's Student Loan Hero, told FOX Television Stations.
Out of the more than $1 trillion in student debt held by the federal government, about half is being repaid through those plans. 
What exactly are the newly proposed changes?
The proposed changes aim to simplify income-driven repayment in the U.S., and broadly speaking, make student loans even more affordable to these borrowers. 
While the federal government currently offers four types of income-driven plans, it would mostly phase out three of them (PAYE, IBR, and ICR), while focusing on one simplified plan (REPAYE) — scaling back the confusing array of options borrowers now face.
"I think that really one of the main goals of this Department of Education is to just make things a lot clearer," Channel said of the IDR plan changes. 
Under existing plans, monthly payments are capped at 10% of a borrower's discretionary income, and those earning less than $20,400 a year aren't required to make payments. The new proposal would cap payments for undergraduate loans at 5% of borrowers' pay, cutting their bills in half, and require payments only for those who earn more than about $30,600 a year.
As long as borrowers make their monthly payments, any unpaid interest would also not be charged. The change is meant to prevent borrowers from having unpaid interest added to their loan balance, a practice that can cause debt to balloon even as borrowers make payments.
Significantly, the proposal would also make it easier to get debt erased after making several years of payments. Existing plans promise to cancel any remaining debt after 20 or 25 years of payments. The new plan would erase all remaining debt after 10 years for those who took out $12,000 or less in loans. For every $1,000 borrowed beyond that, a year would be added.
The Education Department said the proposed changes would "substantially reduce monthly debt burdens and lifetime payments" for low and middle-income borrowers, community college students, and borrowers who work in public service. 
A typical graduate of a four-year public university would save nearly $2,000 a year thanks to the proposed changes, compared to the existing plans, the Education Department estimated. Some 85% of community college borrowers would be debt-free within 10 years, it added.
Who benefits the most from these proposed changes, if finalized?
Generally speaking, those who stand to benefit the most from the proposed changes announced by the Education Department are those who earn a lower income, including those in the public sector and many racial minorities on average, and those who have undergraduate degrees.
The Education Department noted how, on average, borrowers who are Black, Hispanic, American Indian, and Alaska Native borrowers would see their lifetime payments per dollar borrowed cut in half.
"For people with graduate degrees, there is still help available, but it's generally much less robust," Channel said, noting how graduate degrees often lead to higher earnings compared to undergraduate degrees.
If finalized, when would these changes be implemented?
The Education Department formally proposed the new repayment plan on Tuesday by publishing it in the Federal Register, starting a 30-day public comment period. The department said it expects to finalize the rules and begin implementing some of the changes later this year, subject to any changes made based on public comments.
But Channel noted how there are several uncertain variables at play, including the one-time student loan forgiveness currently tied up in court, which could impact the timeline of this proposal. 
"It's important to note that these changes haven't been finalized yet," Channel told FOX Television Stations. "They might wait a little bit longer to actually implement these rules until we are certain what the fate of the broad student loan forgiveness is in the Supreme Court. Potentially, if that's struck down, the Biden administration may reorient some of these income-driven repayment plan policies to maybe make them even more generous."
Additionally, the ongoing pause on federal student loan payments has been extended through June 2023. If the legal challenges have not been resolved by June 30, payments could resume 60 days after that date.
In the meantime, student loan borrowers should visit StudentAid.gov and reach out to their student loan service provider with questions.
"The more you know about your specific situation, the easier it will be for you to navigate the tumultuous future that it seems like we have to face," Channel said. "Don't be shy about this. This is your money."
This story was reported from Cincinnati. The Associated Press contributed.