MnDOT clears Minneapolis homeless encampment connected to deadly shooting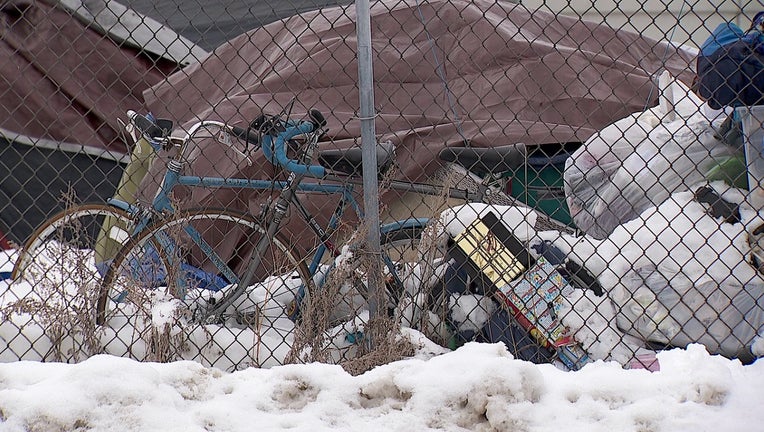 article
MINNEAPOLIS (FOX 9) - MnDOT crews have cleared a homeless encampment in the Cedar-Riverside neighborhood that was connected to a deadly shooting last week in Minneapolis.
A MnDOT spokesman tells FOX 9 that the encampment near Currie Park had become "a critical safety concern following a fatal shooting late last week." After posting notice, the encampment was cleared Wednesday morning.
A statement from MnDOT reads: "MnDOT has always maintained that highway right-of-way is not a safe place for human beings to live. As always when responding to the complex and urgent needs of people experiencing homelessness, MnDOT closely coordinates with local service providers and state and county partners to provide information, support and alternatives to people at the site. Over the past several weeks, there have been regular visits to this location from service providers and local organizations – including weekly by Hennepin County's Streets to Housing team – to share information about available services and shelters. I'd encourage you to contact Hennepin County who can share much more information about the extensive outreach that has occurred at this location."
People living in the encampment were pointed to local organizations that help people experiencing homelessness.
Police responded to that encampment last Thursday for a reported deadly shooting. The victim, identified over the weekend as 27-year-old Adnan Mohamed Ali, was found at the encampment with fatal wounds.
After the deadly shooting, Councilmember Jamal Osman issued a blistering statement, calling out state leaders for a lack of action to handle encampments. On Wednesday, after the encampment was cleared, Osman issued a follow-up statement expressing further concern about the lack of action to deal with encampments and to help those living there.
The statement reads in full:
"Today MnDOT, in coordination with the City of Minneapolis and other governments closed the homeless encampments in Cedar-Riverside.
"It brings me nothing but disgust to have this happen. The encampment closures in my ward have been some of the hardest and most miserable of my time in City Hall. Particularly the failures in multi-jurisdictional response to homeless encampments are so obvious and hurt so many in my community.
"I take no joy in calling for an encampment to be closed. It comes only after weighing the difficult options facing the community I represent. Our homeless neighbors need help. But everyone deserves to live in safety. When those two issues collide, the broader safety of everyone in the community is what I will choose. 

"The neighborhoods I represent bear the responsibility of homeless encampments in way nowhere else in the city does. Why? Why is it acceptable that poor children in Elliot Park, Phillips, Seward and Cedar Riverside cannot enjoy any number of the joys of childhood because discarded needles, broken glass, and random violence litters their neighborhood? Nowhere else in the city, and honestly the state, would children be expected to change how they get to school because of homeless encampments. Kids in Cedar Riverside have had to change their lives since Labor Day while governments failed.

"In the January economic forecast nearly $200 million dollars more than expected was paid to Minnesota. That money could house every single homeless person in the State of Minnesota, provide wraparound support services, and help provide for the transportation they need. The City of Minneapolis cannot fix a problem that starts long before our borders and is larger than any ability we have."