THC edibles in Minnesota: Board of Pharmacy files lawsuit against edibles makers
ST. PAUL, Minn. (FOX 9) - Minnesota regulators on Monday filed a lawsuit against three companies involved in the manufacturing and selling of THC edibles, claiming that the products have sickened five teenagers in Iowa.
It's the first time that the Minnesota Board of Pharmacy has brought a case using the state law that legalized low-dosage THC gummies and beverages this summer. The suit involves three Moorhead-based companies: Northland Vapor Moorhead, LLC, Northland Vapor Bemidji, LLC, and Wonky Confections, LLC.
Regulators accuse Northland Vapor of selling gummies that contain 2,500 milligrams of THC, 50 times the amount allowed under state law. At a Monday afternoon news conference, state investigators showed photos of products that look like gummy bear candy. Under Minnesota law, it's illegal to use branding that appeals to children.
"Due to the sheer quantity and the seriousness of the products, we moved quickly to embargo," said Jill Phillips, executive director of the Board of Pharmacy. Regulators are now asking a Clay County District Court judge to let them destroy an estimated $7 million worth of products.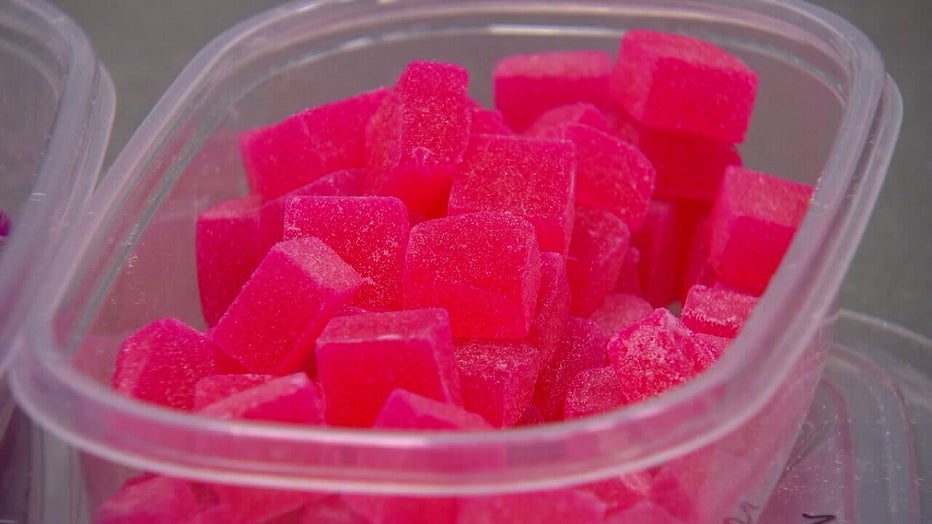 FILE PHOTO: THC edibles.  (FOX 9)
In response to the lawsuit, a lawyer for Northland Vapor said the company is the victim of unfair treatment. The Board of Pharmacy has been more accommodating with other companies, said Tyler Leverington, the lawyer.
"Northland is a small business committed to making a quality product and now must fight for its life against over-zealous regulators in St. Paul looking to make a splash with their newly adopted law," Leverington said in an emailed statement.
Regulators said officials at the U.S. Food and Drug Administration tipped them off after receiving complaints. They pointed to five high school students in Des Moines who became ill after eating one-half to two full gummies. Two of the teens were hospitalized, regulators said.
The Minnesota Legislature quietly legalized THC edibles earlier this year, which didn't include any plan for enforcement, licensing, or taxation. This led cities and counties to regulate THC edibles on their own. At least 30 cities have temporarily banned sales in their communities, according to analysis from FOX 9 and data from the League of Minnesota Cities.
The state has taken 46 complaints about THC products since the law took effect in July. This is the first case that's led to a seizure, though other investigations are ongoing, Phillips said.
Regulators said the case is proof that Minnesota needs to expand its enforcement team. The Board of Pharmacy's caseload has doubled because of the new law, Phillips said. The agency has four full-time investigators statewide that look into complaints across the pharmaceutical products it regulates, in addition to the THC edibles.
"We weren't given additional funding and resources," she said. "We do the best we can with the resources we have to act promptly and effectively."
Democrats who will control the Legislature in January say they're working on a regulatory framework for THC products. They're also making a broader effort to legalize recreational marijuana. 
State Rep. Heather Edelson, who worked on the THC legislation earlier this year, said lawmakers could fold the regulation of edibles into a broader marijuana law.
"I would actually say (the 2022 THC law) is helping to identify the issue, because it's brought a heightened awareness to what is safe to consume -- and what is, in this case, absolutely not safe to consume," Edelson, DFL-Edina, said in an interview. "I think we're looking at all options right now, in terms of what will happen in the 2023 legislative session."
Under state law, edibles sold in the state cannot contain more than 5 milligrams of any hemp-derived tetrahydrocannabinol (THC) in a single serving or more than a total of 50 milligrams per package. 
On Nov. 8, the state Board of Pharmacy and the FDA inspected Northland Vapor's manufacturing warehouse in Moorhead, where they found edibles that matched those for sale on the companies' websites and at their retail stores. Among the items found:
About 28,896 packages of Death by Gummy Bears, labeled as 25 individual gummy bears at 100 milligrams of TCH per serving, totaling 2,500 milligrams per package
About 112,710 packages of Death by Gummy Bears, labeled as 10 individual gummy bears at 100 milligrams of THC per serving, totaling 1,000 milligrams per package
About 2,400 packages of Wonky Weeds Gummies, labeled as 10 individual gummies at 30 milligrams of THC per serving, totaling 300 milligrams per package
About 2,310 bottles of Wonky Weeds THC Syrup, containing 700 milligrams of THC per bottle.