Barron County police shooting: Thousands turn out for memorial for officers
CAMERON, Wis. (FOX 9) - Thousands of people gathered Wednesday evening as the western Wisconsin community continues to reel from the loss of two police officers killed in a shooting.
Emily Breidenbach, 32, of the Chetek Police Department, and 23-year-old Hunter Scheel, of the Cameron Police Department, were killed on April 8 after a suspect opened fire during a traffic stop.
"Just getting together when everyone is like, yeah, I know it hurts bad. Getting to do that together helps," said local pastor Alan Klasi. "There's some healing in that too."
"You don't expect it, you don't understand it, and you just have to love them for what they do to protect us," said retired EMT Linda Lord.
A huge crowd gathered Wednesday as the chiefs of police for Cameron and Chetek, Wisconsin shared fond memories of the officers.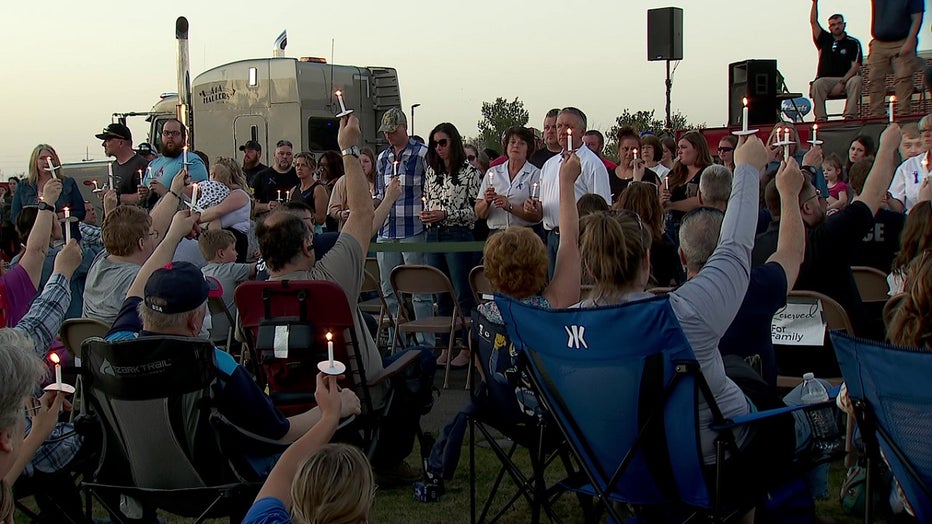 A candlelight vigil honored two police officers in Barron County killed during a traffic stop last weekend. (FOX 9)
Breidenbach was remembered for her love of motorcycles and commitment to local youth. Chetek Police Chief Ron Ambrozaitis said she was the "epitome of community policing."
She was the daughter of former Chetek Police Chief Bob Breidenbach, and was recently engaged to be married.
23-year-old Hunter Scheel of the Cameron Police Department was remembered as a huge Wild hockey fan who loved to fish and hunt. Scheel was a member of the Army National Guard and served one tour in Afghanistan, before joining the Cameron Police Department in 2022.
Officials called the pair heroes even in their final moments.
"Her and Hunter fought back, and they saved a lot of people that day," said Chetek Police Chief Ron Ambrozaitis.
A joint public funeral is planned for Saturday at Cameron High School with full law enforcement honors to follow outside.