Man in wheelchair honored for helping officer during assault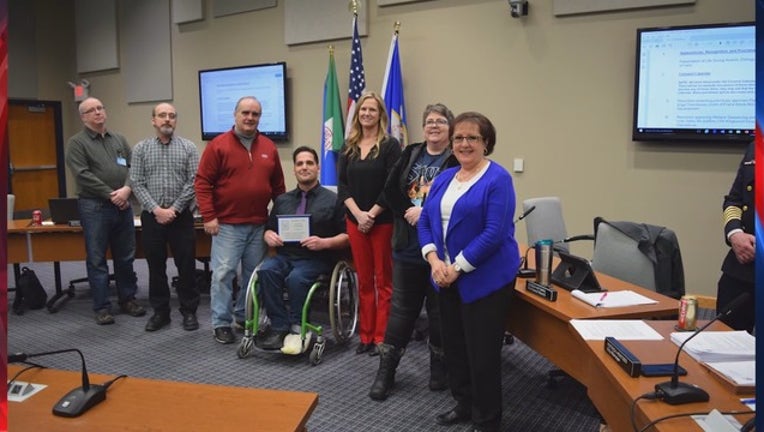 MANKATO, Minn. (FOX 9) - An Eagle Lake, Minnesota man was honored for his bravery and quick-thinking when he helped an officer who was being assaulted. 
During Monday's city council meeting in Mankato, Jacob Siem was presented with the Award for Valor, one of the highest honors that can be given to a community member. Siem, who was born with spinal bifida and uses a wheelchair, has no usable muscle below his knees.
Back in October, in downtown Mankato, 35-year-old Siem saw a police officer trying to apprehend a man involved in a fight. He said he planned to stay out of it – until he saw the officer go down.
"My brain just went into automatic mode, I think, more than anything," he said.
Within seconds the suspect, Bryan Austin Meuangsaksith, was standing over the officer.
"I still don't know if he either fell on me, or lunged at me, but all of a sudden he was on top of me so just by pure luck, I kind of caught him in a headlock," Siem said.
That night, he used his upper body strength to constrain the suspect, giving the officer enough time to call for back-up and eventually make an arrest.
"I laid on top of him and did what I could to pin his head down, and then tried to pull his hands back so the officer could get out," he said.
During the meeting officers emphasized how differently the incident could have played out if Jake hadn't been there.
"The accommodation was just a small piece of gratitude that we give him as a city to really thank him for protecting us so that we can do our job better," Mankato Police Commander Jeremy Clifton said.
Siem doesn't consider himself a hero; he says he just did what was right.
"Hopefully it's a good lesson for people in general and their perceptions of people with disabilities. If anything it would be great that it showed other people that disabled people are a lot more capable than necessarily given credit for," he said.
"Any community could use more Jakes. We're proud to have him here," Clifton added.