Family says goodbye to pregnant woman killed in Lakeville; baby continues to fight for his life
MINNEAPOLIS (FOX 9) - Holding bright pink balloons to match her vibrant personality, the people who loved Kyla O'Neal most remembered her Tuesday for the beautiful and outgoing person she was.
"We care for her, knowing that we love her and she would truly be missed by all of us out here," said her mom, Katina O'Neal, during an interview with FOX 9.
The 31-year-old was nearly full term with her fourth child scheduled to be induced this week. But instead, doctors at Hennepin County Medical Center were forced to deliver the baby boy after Kyla O'Neal was shot and killed Sunday night in the parking lot of the Amazon Fulfillment Center in Lakeville. Her child's father has since been charged with second-degree murder.
"It don't make sense, and it's senseless for her not to be here. For not to be here for birth to her baby," said Katina O'Neal, who is also the baby's grandma.
Katina O'Neal said her daughter had the name "Messiah" picked out before she died. The newborn's grandmother now spends her days by the baby's side at the hospital hoping he'll show any sign of brain activity.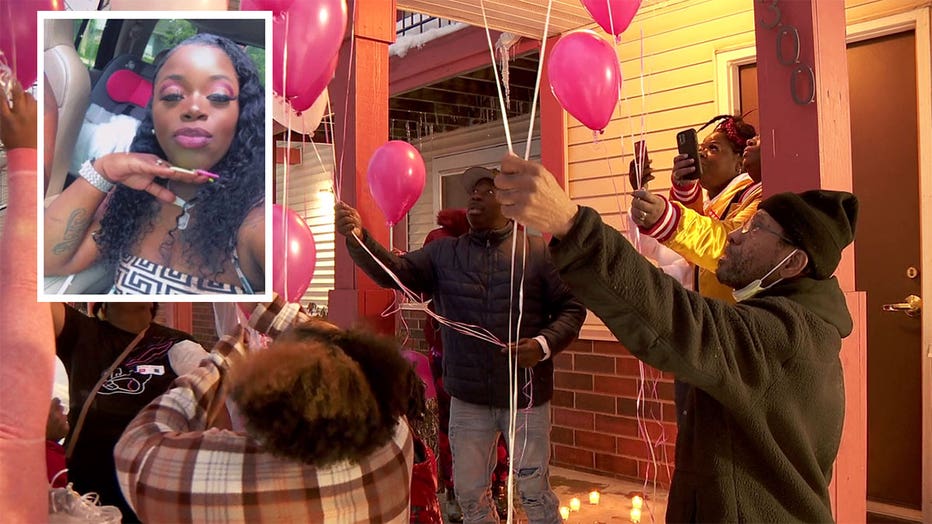 Kyla Bianca O'Neal was remembered Tuesday by her loved ones. (FOX 9)
"I'm rubbing him, kissing him, consoling him, letting him know that we're out here fighting and I want him to continue fighting," Katina O'Neal said.
On Tuesday, Kyla O'Neal's family said goodbye to her during a candlelight vigil and balloon release outside her north Minneapolis home. They spoke of her intelligence, job as a certified nursing assistant, and endless talents.
"She loved doing makeup. She loved doing hair. She made sure her kids were good," said the victim's aunt, Rochelle Thomas.
Her family also spoke of the love Kyla O'Neal had for her children, including baby Messiah, whom she was so excited to bring into this world but never got the chance to meet.
"I'm going to stay there. I'm going to stay there with him and keep lifting him up in prayer and asking everybody else to do the same," Katina O'Neal said.
In addition to baby Messiah, Kyla O'Neal had three children all under the age of 11 who are now under the care of their grandma. They have set up a GoFundMe fundraiser set up to help her cover expenses and funeral costs.