Kim Potter's application to get her sentence shortened won't be considered by pardon board
SHAKOPEE, Minn. (FOX 9) - Minnesota's Board of Pardons considered 40 cases for leniency this week from offenders who made sometimes emotional pleas about their rehabilitation, but one notable name wasn't among them -- and may never be.
Kim Potter, the former Brooklyn Center police officer convicted of manslaughter in the deadly shooting of Daunte Wright in April 2021, sought to have her sentence reduced. But the pardon board's staff rejected Potter's case as undeserving, and the three-member board didn't intervene.
Potter is serving a 24-month sentence after being convicted of first-degree manslaughter in Wright's death. Minnesota's sentencing guidelines call for serving two-thirds of the sentence in prison. Potter will leave prison in April and will be on supervised release through the end of 2023.
A pardon board spokesman said the panel declined to review Potter's case because she was already given a sentence far below recommended guidelines. Potter could've received an 86-month sentence, but Hennepin County Judge Regina Chu decided more lenient treatment was appropriate. The state didn't appeal the decision from Chu, who has since retired.
In her May application, Potter wrote that she planned to help domestic abuse victims and people who are homeless. She also said her husband, adult children, and 80-year-old mother needed her support.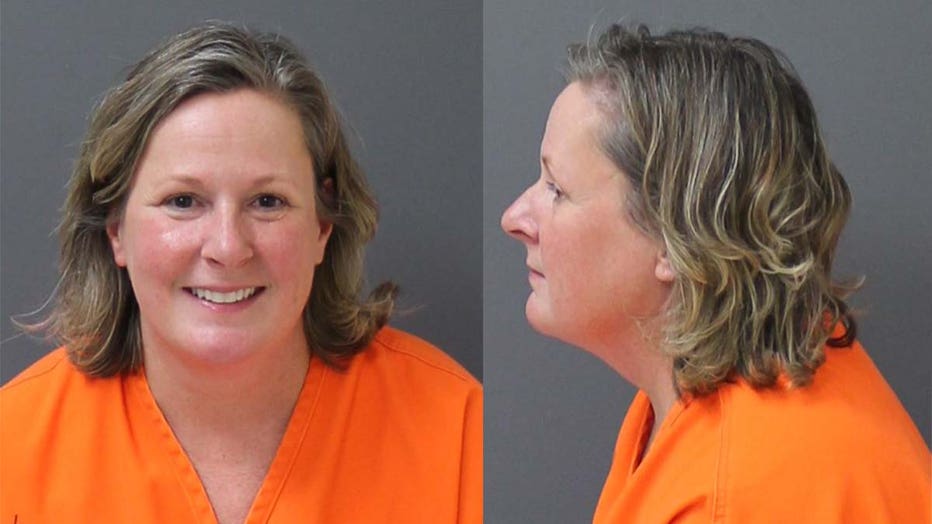 Kim Potter was booked into the Department of Corrections women's prison in Shakopee, Minnesota shortly after Thursday's guilty verdicts.
"I have things to offer the community that prison walls don't allow," Potter wrote from the women's prison in Shakopee, where she's been locked up for the past year. "Please consider commuting my sentence and sending me into society to continue the work that God has created for me."
Potter's request to spend time with her family didn't distinguish her from countless others who request reduced sentences, the board's spokesman said.
Potter will be out of prison by the next pardon board meeting in June. The three-member board that includes Gov. Tim Walz, Attorney General Keith Ellison, and state Supreme Court Chief Justice Lorie Gildea, meets twice a year. 
Potter will face a high bar if she wants the supervised release portion of her sentence reduced. Applications for reconsideration require "new and substantial information" that the pardon board didn't have when originally denying an offender's request. In addition, at least two of the three board members would need to agree to reconsider.
Neither Walz, Ellison, nor Gildea have publicly expressed interest in revisiting the case. Ellison's office led the prosecution of Potter.
The prosecution became a political issue in this fall's election. The Republican candidates for governor and attorney general said they would vote to commute Potter's sentence -- though, because a unanimous decision is required, they would need Gildea's support. Both GOP candidates lost.
During the campaign, Ellison defended his office's prosecution.
"I believe in the jury system," Ellison said during an October debate. "There was nothing political about this. This was entirely by the book."