Indoor, pop-up skatepark opens in Uptown mall storefront
MINNEAPOLIS (FOX 9) - Many Twin Cities skateboarders see their options for skating dwindle down each year, as soon as snow and ice cover their outdoor parks. But now a new partnership at the Seven Points mall hopes to change that.
"This is kind of a test pilot, something like this, an indoor temporary pop-up park, has never been done in the Twin Cities before," JSAW business operations manager Ben VanOss said. "We've got quarter pipes, we've got kickers, we've got boxes, we've got a bump to bar that we just installed, we've got flat bar rails, round bar rails."
Until the end of April, VanOss has essentially created a skateboarder's paradise. It's called the Uptown Park Project, and it was all made possible by J Saw, a Twin Cities-based nonprofit that is focused on serving the action sports community. The skate park is open on weekday nights, and throughout most of the day on Saturday.
"This is all just a service project," VanOss continued. "We're not making any money on this, we charge $5 for admission, just to help cover."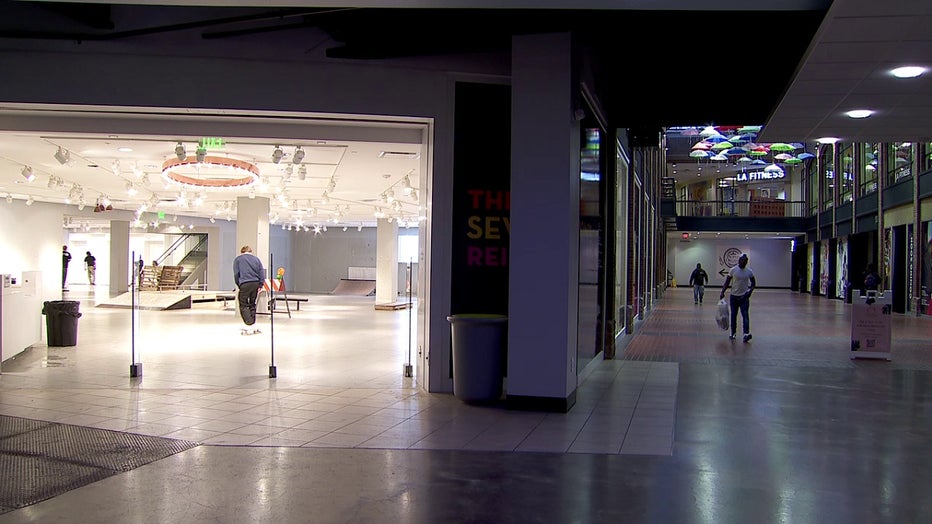 An indoor skatepark is now open in the former H&M storefront in Uptown. (FOX 9)
JSAW's skateboarders have made a new home of the former H&M clothing store in Uptown. Since December, dozens of them are putting the two-story 9,000 square foot space to good use; to keep their skills sharp through the winter.
"I would never expect there to be a park in here, so when I heard about it, I got pretty excited," skater Samuel Atwood said. "The mall is not doing that well, so we're just trying to make stuff happen and it's good."
With the help of generous donors, now JSAW hopes to expand the pop-up skate park each winter in years to come. Click here to learn more about helping them in their efforts.