Hold the phone: Historic NBA photos show stark difference in eras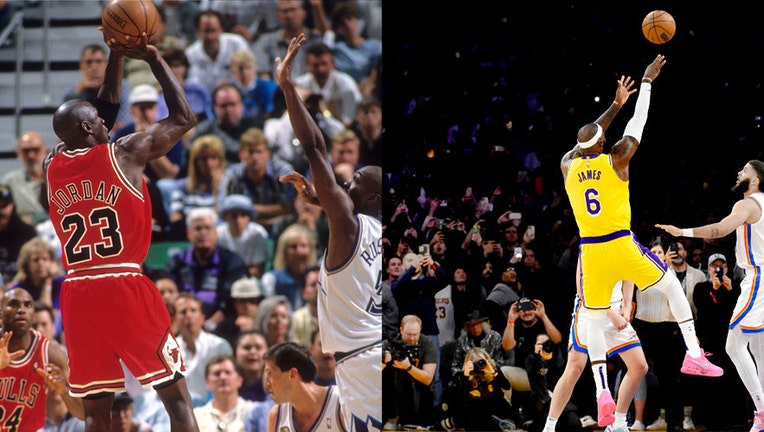 article
LOS ANGELES - Tuesday night, sports fans witnessed history as NBA superstar LeBron James broke the scoring record held by legendary Kareem Abdul-Jabbar, becoming the NBA's all-time scoring leader. Afterwards, one user on Twitter posted a photo illustrating the stark differences between two of the greatest eras of basketball. 
The post on Twitter, which has earned more than 177,000 likes as of Feb. 9, shows two historic NBA photos back to back. 
The first shows Michael Jordan's game-winning shot against the Utah Jazz, which put the Chicago Bulls up with 5.2 seconds left, clinching the 1998 NBA Finals. It would be the last shot of MJ's career before his second, and final, retirement. 
The other photo in the viral Twitter post shows the moment LeBron broke the record for NBA's all-time scorer. 
The reason the post is taking off on social media is the glaring difference in NBA eras. Fans in the Michael Jordan photo can all be seen watching the game with no cell phones in sight — there were no smart phones in 1998.
Meanwhile, in the LeBron James photo, nearly every single fan — except for Nike CEO Phil Knight — can be seen capturing the moment on their phones, not actually seeing it in real time with their own eyes.
Mind you, the seats for Tuesday's Laker game were going for as much as $181,500 for two seats, according to Ticketmaster. 

RELATED: LeBron's historic night: Kareem Abdul-Jabbar, sports world react

And the moment was like something out of a movie. With 11 seconds remaining in the third quarter, the four-time NBA champion and 19-time All-Star broke the coveted record at the Lakers home game against the Oklahoma City Thunder at the Crypto.com Arena in downtown LA.

"King James" finished the game with 38 points in the Lakers' 133-130 loss to the Thunder and ended the night with 38,390 career points.

The record was previously held by Abdul-Jabbar, who passed Wilt Chamberlain in style with his signature sky-hook on April 5, 1984. It was one of the ultimate highlights of his outstanding 21-year career as a player and social justice champion, and it's a record many believed wouldn't be surpassed.

Although James and Abdul-Jabbar have had their disagreements through the years, the legendary Laker was in attendance for Tuesday night's game to show his support.
KTTV contributed to this story.