Grocery workers union declares strike over wages, employee protections
(FOX 9) - Union member workers have officially declared they will strike at more than 30 grocery store locations throughout the Twin Cities.
"We voted today to stand up and be heard, and to strike," workers said in a unified statement announcing the strike on its official Facebook page Tuesday.
Following the formal vote by United Food and Commercial Workers (UFCW) Local 663 members, workers for several United Natural Foods Inc. (UNFI) locations said the vote was nearly unanimous, during an announcement on Tuesday. 
According to UFCW 663 President Rena Wong, members are seeking a raise of $4 per hour throughout the next two years for full-time employees, and raises every six months for part-time employees (instead of tied to hourly accumulation).
"We want to make sure workers are being paid in a way that respects their work," Wong said during a Zoom press conference Monday before the vote.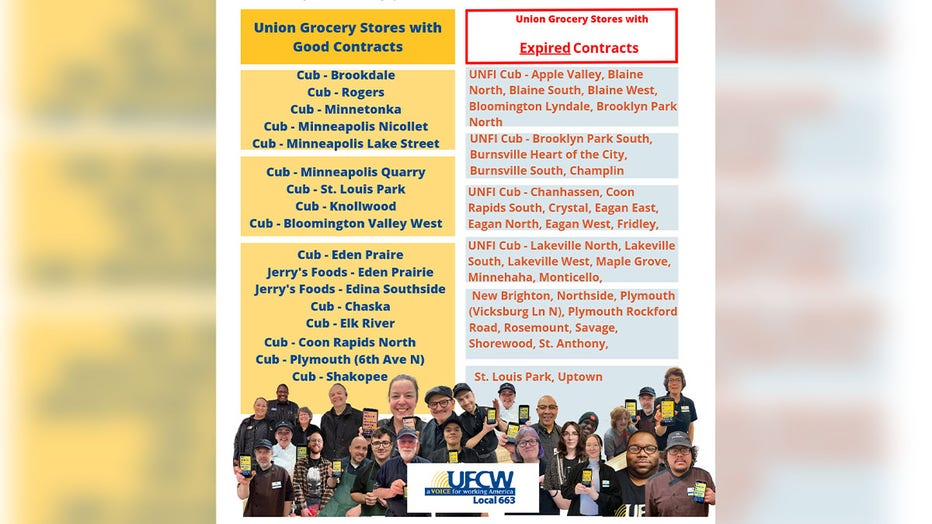 UFCW literature outlining its stance on labor negotiations on certain store locations.
On Monday, Cub Foods provided FOX 9 with the following statement: 
Cub cares greatly about its team members and has negotiated diligently and in good faith with UFCW local union #663 to finalize a new collective bargaining agreement. As part of its current offer, Cub has proposed historic wage increases and agreed to ongoing union health and pension plans on terms specifically requested by the union.
 We're deeply disappointed that the union elected to spend today taking a strike authorization vote instead of using that time to meet with us to reach agreement on terms for a new contract. It is our strong hope that the union will choose to continue negotiations rather than pursue a strike. In the even there is a strike, we are prepared to implement contingency plans to ensure the continued availability of the products and services our guests have come to count on from Cub. 
FOX 9 is told UNFI has offered wage increases of $1.50 per hour in the first year and $1.25 in the second year of the contract along with a new wage grid for part-time workers. Store leaders also say the union has refused to return to the negotiating table until April 11.
UNFI acquired Cub Foods in 2022 as part of its acquisition of Supervalu.