Faribault police seize suspected marijuana plants from tent sale
FARIBAULT, Minn. (FOX 9) - Police in Faribault seized 22 suspected marijuana plants from a parking lot tent sale on Tuesday, the first day of recreational marijuana legalization in Minnesota.
Police say they were acting on "several citizen complaints" about the plants being sold outside Total Tobacco, on the 400 block of Fourth Street NW. Officers arrived at the shop at 4:50 p.m. and say the plants were labeled by strain and some included labels for THC concentration "exceeding the percentage allowed for legally grown industrial hemp."
Officers investigated the incident as a violation of Minnesota's newly enacted Marijuana statutes, and seized the plants. No arrests were made.
"You can't set up a tent sale in front of a retail business and sell cannabis plants – not yet anyway," said Faribault Police Chief John Sherwin.
Marijuana possession is legal as of August 1 in Minnesota. Adults 21 and older can also grow up to eight marijuana plants for personal use.
However, Matt Little, who owns NuQanna, a hemp cultivation and manufacturing business, insists they were not marijuana plants, but rather "immature" hemp plants that contained THC levels below what's required in hemp.
"This really sets the tone for Minnesota --  how is Minnesota going to react with the people who love cannabis and the people who might be anti-cannabis or law enforcement who don't know the laws because of you know gaps in the law."
Video footage of the police encounter and plant seizure captured by Joshua Swanson shows uniformed officers making a phone call before taking the plants. 
"Alright, we're just going to seize the plants and bring them to the station, per the chief's orders," an officer can be heard saying.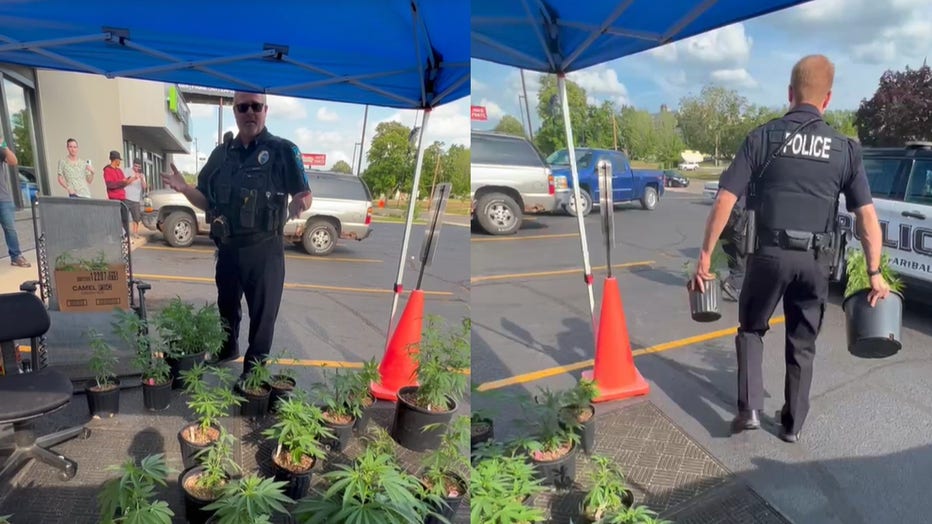 Faribault police seized several marijuana plants from a local tobacco shop's parking lot tent sale on Aug. 1, the first day that recreational marijuana became legal in Minnesota. Credit: Joshua Swanson. (Supplied)
"The Faribault Police Department is committed to supporting businesses engaged in the legal sale of cannabis and cannabis-related products once the Minnesota Office of Cannabis Management is established," said a statement from Faribault Police Chief John Sherwin. "Until that time, unauthorized sales of cannabis will be investigated in accordance with state law."
FOX 9 sought clarification from the state's Office of Cannabis Management, which stated no retail sales are legal until they are licensed by that office.
"Sales of hemp and cannabis are treated differently under the law. MDA has the authority to regulate hemp cultivation and processing," a statement said. "Once fully operational, the Office of Cannabis Management will be responsible for regulating the legal adult-use cannabis market in Minnesota. Until then, no retail sales are legal (unless conducted by tribes on tribal land) until businesses are licensed by the Office of Cannabis Management."
Recreational marijuana in Minnesota: The law
Adults in Minnesota can now legally possess and grow recreational marijuana. Here's everything you need to know.
Adults 21 and older can possess and travel within Minnesota's borders with 2 ounces of cannabis flower, 8 grams of concentrate, and 900 milligrams worth of THC-containing edible products (gummies, seltzers). Meanwhile, they can have 2 pounds of cannabis flower at home. It remains illegal under federal law to bring marijuana into Minnesota from out of state. 
In addition to using and possessing marijuana, adults can grow up to eight plants at home (no more than eight flowering at a time). They must be grown in an enclosed space that's locked and not visible to the public.
Cannabis seeds are also legal. As of the Aug. 1 start date, the State of Minnesota has granted at least 26 permits to label cannabis seeds for sale.  
It will be awhile before retail marijuana shops pop up in your community. That's because the state licensing for retail cannabis sales is probably still more than a year away. The Office of Cannabis Management will oversee the cannabis industry in Minnesota, with applications for the executive director position closing on July 31. The office will also run the state's medical marijuana program.
Tribal governments, however, will set their own rules. As a result, retail shops on tribal lands are opening much earlier. In fact, the Red Lake Nation in northwestern Minnesota began selling recreational marijuana on Aug. 1, 2023, at its medical cannabis dispensary, becoming the first retail recreational marijuana location in the state.