Family of man killed by St. Paul PD believes death could have been avoided
ST. PAUL, Minn. (FOX 9) - The family of a man shot and killed at the hands of St. Paul police officers is questioning the use of force. 
Yia Xiong, 65, was a member of the Hmong community. On Sunday, the community showed up by the dozens at two different events to honor his life and question his death.
His family said the final moments of his life should have been handled differently. They came from all over the Midwest to call for justice.
"Cops are trained to be in high-stress situations, correct? He didn't have to shoot my father-in-law," said Xiong's son-in-law, Lasalu Yang.
Xiong's family will remember the 65-year-old war veteran for the joy he got watching his family grow.
"That's the number one thing about my dad: He loved all his kids. He loved all his grandkids," said his daughter, Mai Tong Xiong.
Mai Tong Xiong is holding tight to her memories of her father days after police released body camera footage that showed the deadly incident at the apartment complex in St. Paul's West 7th neighborhood.
"I couldn't even watch it to be honest. I got the first of it and I couldn't watch. Watching your loved one to get murdered like that is very, very hard," she said of the body camera footage.
Police say a 911 caller said a man was threatening people with a knife in the building's community room. In the video, officers tell Xiong to drop the knife, but he runs into an apartment. The footage shows the officers kick the door to prevent it from closing. Then, Xiong comes out of the apartment, still holding the knife. That's when one officer fires shots, killing him.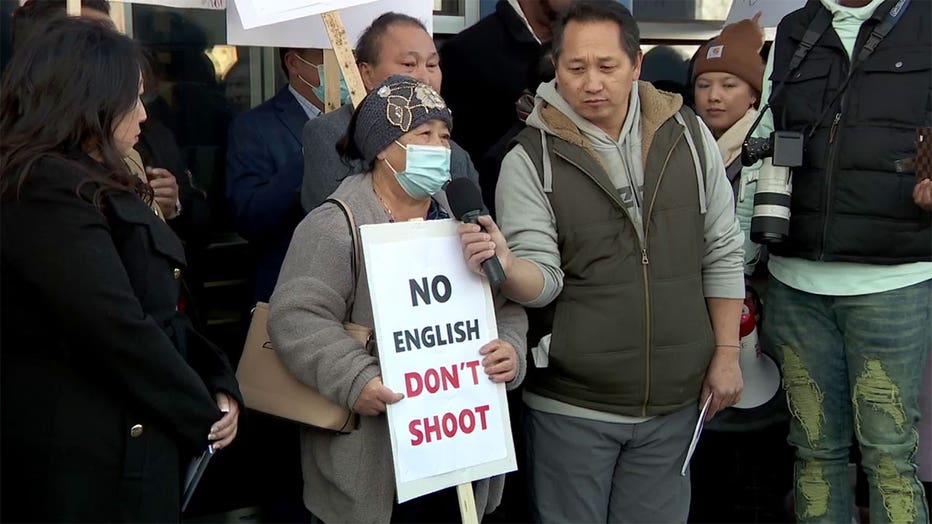 A rally was held on Sunday for Yia Xiong in St. Paul. (FOX 9)
"You come in and you start shooting and you start pointing guns in his face: Yes, he's scared. What is he supposed to do?" said Doua Chi Lee, a relative of Xiong.
Xiong's family said he had anxiety, depression and PTSD from his time in the service, and understood limited English. Through a translator, his widow, said he lost his hearing in the war.
"(My) children will not have a father. I, myself, will not have a husband," said Xiong's wife, See Xiong.
The Hmong community and local activists are asking why officers didn't employ de-escalation strategies instead of shooting.
"This was not a justifiable killing. Yia had went into his home. If they would have gave him a chance, if they would have just gave him a chance, he may still be alive," said Toshira Garraway Allen from Families Supporting Families Against Police Violence.
Police have said they hope the body camera videos answer questions for Xiong's family about what happened. In the meantime, the Bureau of Criminal Apprehension is still investigating the shooting.