Easter egg hunts, brunches, and more in Minnesota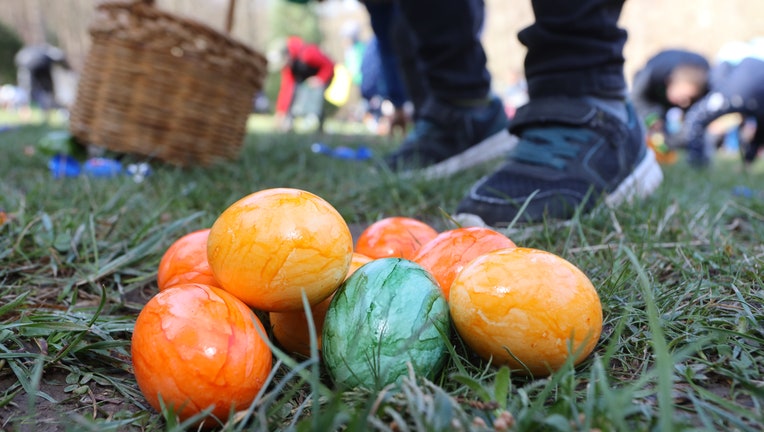 article
MINNEAPOLIS (FOX 9) - Easter is fast approaching and there are several egg hunts, brunches, and other celebrations in the Twin Cities and beyond. Here is a look at some of the events happening across the state to celebrate Easter.
Have an event you want to see featured? Email me at adelaide.vanpelt@fox.com.
Easter egg hunts in Minnesota
American Swedish Institute:
An Easter egg hunt in a castle! Hunt for colorful eggs hidden in the Turnblad Mansion.
Andrews Park Easter Egg Hunt:
Champlin
April 7
Free to participate
This event has two hunts to choose from. Bring children 4 years old and younger to the Tiny Tot Hunt at 11 a.m. and head to the Family Egg Hunt at 11:45 a.m. with kids of all ages.
Blaine City Hall:
Blaine
April 1 from 9 a.m. to 12:45 p.m.
$20 per resident
Enjoy a continental breakfast, craft time, and pictures with the bunny. Fee includes a continental breakfast for one child and one adult, two crafts for one child, and pictures with the bunny. Registration is required.
Hewing Hotel (21+):
Minneapolis
April 9 from 4 p.m. to 5 p.m.
Free to participate (21+)
Easter eggs will be hidden around the hotel and in the Tullibee restaurant. Prizes incuse a complimentary cocktail, charcuterie platters, and more. The grand prize is an overnight stay at the Hewing.
McRae Park (Dog egg hunt):
Minneapolis
April 15 from 1 p.m. to 3 p.m.
$10 per dog
Dog lovers are invited to bring their pups to enjoy activities and a doggie egg hunt. The hunt begins at 2 p.m. Registered participants will receive a puppy basket to take home filled with treats and a toy! Register here.
Midtown Global Market:
Minneapolis
April 8 from 10 a.m. to noon
Free admission
Live music, egg coloring, bunny photos, balloon art, crafts and an egg hunt are all offered at this Easter celebration.
Normandale Lake Bandshell:
Bloomington
April 8 at 10 a.m.
Free admission
The Bloomington Optimist Club is hosting an Egg Hunt with 9,000 eggs. The event is geared toward children 8 years old and younger. Come early for pictures with the bunny. The Teddy Bear Band starts at 10 a.m. Egg hunt starts at 11 a.m.
River of Life Church:
Brooklyn Park
April 9 from noon to 1:30 p.m.
Free admission
This egg hunt also includes bounce houses, balloon animals, candy, and games.
Sunny Acres Park:
Anoka
April 9 from noon to 2 p.m.
Free to participate
Hunt for 15,000 Easter eggs filled with candy. Enjoy food, beverages, the Easter Bunny, and tons of prizes!
William Sauntry Mansion:
Stillwater
April 1 from 10 a.m. to noon
12 special eggs will be hidden throughout the Sauntry Mansion property. Once you find them all, turn in your scavenger hunt checklist for a special Easter treat. Plus, bring your camera to grab a photo with the Easter Bunny!
Easter brunches in the Twin Cities
Cafe Lurcat:
1624 Harmon Pl, Minneapolis
April 9 from 10 a.m. to 4 p.m.
This brunch is served family-style and includes braised lamb shoulder, breakfast potatoes, scrambled eggs, and more.
Kendall's:
12800 Bunker Prairie Rd NW, Coon Rapids
April 9
$37.95 per adult, reservations required
Stop by Kendall's for an Easter brunch buffet including an omelet station and a strip loin and ham carving station.
Minnesota Landscape Arboretum:
3675 Arboretum Drive, Chaska
April 9 from 9 a.m. to 2:30 p.m.
Enjoy a brunch buffet in the MacMillan Auditorium on Easter Sunday followed by a stroll through the beautiful spring blooms in the Arboretum gardens. Full menu here.
River Oaks Golf Course:
10900 E Pt Douglas Rd, Cottage Grove
April 9 from 10 a.m. to 2 p.m.
Reservations recommended
Enjoy everything from prime rib to cinnamon French toast while kids ages 3 and under eat for free.
Call 651-438-2121 Ex. 3 to make a reservation.
The St. Paul Hotel:
350 Market Street, St. Paul
April 9 from 8 a.m. to 1 p.m.
$39.95 per adult
Head to the St. Paul Hotel for a luxurious Easter brunch buffet.
Stockyards:
456 Concord Exchange S, South St. Paul
April 9 from 10 a.m. to 4 p.m.
Brunch options at Stockyards include eggs benedict, filet Diane, brown sugar bourbon glazed ham, and more.
Surly Brewing:
520 Malcolm Ave SE, Minneapolis
April 9 from 10 a.m. to 4 p.m.
Head to this brunch for the full beer menu and several brunch selections. Around the beer hall, DJs will be performing, ice sculptures will be on display and egg dyeing will be available. This is a ticketed, reservation-only event. 
Tria:
5959 Centerville Road, North Oaks
April 9 from 9 a.m. to 3 p.m.
This brunch buffet includes omelets made to order, garlic mashed potatoes, a seafood station, and more.
Tullibee:
Hewing Hotel, Minneapolis
April 9
This brunch includes a pastry basket, seasonal fruit and yogurt, your choice of a main and four family-style sides.
Water Street Inn:
101 Water Street South, Stillwater
April 9 from 9 a.m. to 2 p.m.
Enjoy an Easter brunch buffet in picturesque Stillwater.