Cottage Grove man indicted in murder for hire case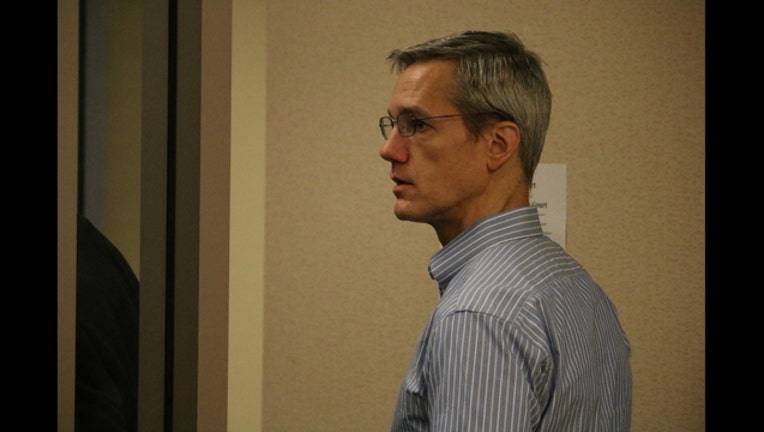 article
HASTINGS, Minn. (KMSP) - A Washington County Grand Jury indicted a Cottage Grove man today for the first degree murder of his wife. It took the Grand Jury only a few minutes of deliberation to reach its decision.
Stephen Allwine is accused of killing his wife, Amy Allwine, last November after unsuccessfully attempting to hire a hit man on the 'dark web' to murder his wife. 
In May, the FBI learned someone attempted to negotiate a contract killing of Amy Allwine on a site called Besa Mafia, which claimed to be part of an Albanian Mafia crime family. The FBI informed the couple and Cottage Grove Police about the activity on the 'dark web,' a relatively untraceable part of the internet known for nefarious activities.
Six months later, on Nov. 13, 2016, Amy Allwine was dead. Police were called to the Allwine's Cottage Grove home, for what initially appeared to be a suicide.  But detectives noticed some of the blood in the bedroom had been cleaned up. It appeared the crime scene had been staged to look like a suicide. 
Allwine was charged in January with second degree murder.  He remains free on bail. 
To the outside world, Stephen and Amy Allwine were the picture of marital bliss. They were married for nearly 20 years and had an adopted son. 
Stephen is an information technology worker for an insurance company, and a Church Elder and lecturer with the United Church of God. 
Last May, Besa Mafia was hacked and their client emails were posted for all to see, including the FBI. The FBI now believe Besa Mafia was an elaborate hoax and that there were no hit men for hire.
Agents discovered an email from a customer whose handle was "dogdaygod," who wanted to have an Amy Allwine in Minnesota murdered.  She "tore my family apart by sleeping with my husband, and is stealing clients from my business," Dogdaygod wrote in an email. Adding that (s)he wanted it to "look like an accident."
"Dogdaygod" had detailed information on Amy Allwine and appeared to be someone close to her.
According to murder charges, Stephen Allwine was really "dogdaygod" and paid Besa Mafia $13,000 in untraceable Bitcoin.
Go to the Besa Mafia site today, and you get a recording of the song, "So Long, Farewell," from The Sound of Music, and a brief statement: 
"BESA MAFIA HAS CLOSED FOR BUSINESS."
"NO ONE WAS EVER BEATEN UP OR KILLED."
After conducting forensic work on Stephen Allwine's computer and cell phone, they found data directly connecting the device to specific Bitcoin transactions.
Police also said they uncovered evidence Stephen Allwine was having an affair with a woman he met on Ashley Madison, a site focusing on adulterous married people. 
The FBI declined to comment for this story and would not elaborate on whether Stephen Allwine was a suspect in the initial murder for hire case.