Charges: Minneapolis police officer fired gun into car of bystanders without warning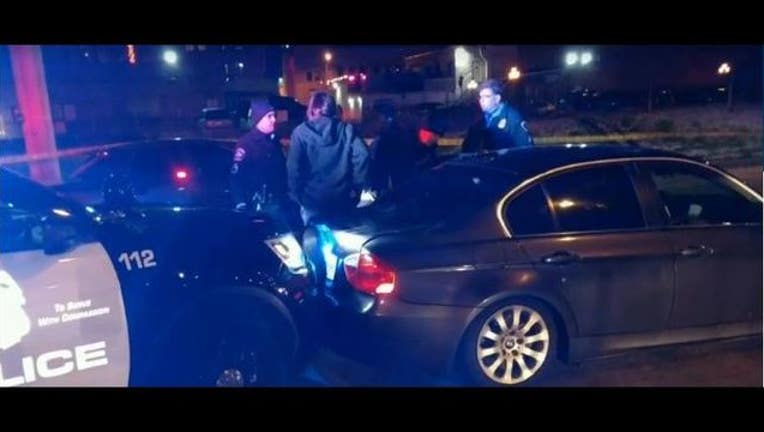 article
MINNEAPOLIS (KMSP) - The Hennepin County Attorney's Office announced charges against former Minneapolis police officer Efrem Hamilton on Tuesday.
Hamilton fired his weapon into a car on Nov. 19 after a brawl broke out along the 400 Block of 3rd Avenue North. The incident happened after two people were shot just after bar close.
Hamilton was charged with second-degree assault and intentional discharge of a firearm.
According to the criminal complaint, Hamilton was working as an off-duty officer at The Pourhouse on 10 South Fifth Street when he heard the shots fired call. He did not communicate that he was responding to assist to the call at any time.
A gray/black BMW driven by Caylea Wade, was attempting to leave the area during the chaotic scene. Wade was advised by responding officers to back her vehicle up on 3rd Avenue North, which she did and as she was backing up, Hamilton pulled his squad car into the middle of 3rd Avenue North and came to a stop.
After Wade's vehicle backed into the front of the squad car, Hamilton got out of his car, pointed his firearm and fired a round at the BMW. Hamilton did not give any commands to the driver or passengers of the BMW before firing the shot.
Six people were inside of the BMW during the incident and none of them were hurt. In November, they filed formal complaints with the city. Hamilton was relieved of his duties from the Minneapolis Police Department in December.
Hamilton told investigators he saw the a gray vehicle backing up at a higher rate speed than normal and thought it was the vehicle involved in the shootings that occurred. He admitted he did not radio out this information to other officers.
Hamilton admitted he was shooting at whoever was sitting in the driver's seat of the car, although he had not seen any weapons. He felt his life was in immediate danger based on the observation of the vehicle matching the description of the vehicle involved in the shooting.
Chief Harteau's statement
"I am aware of the charges against Officer Efrem Hamilton. I am concerned and disappointed that a Minneapolis Police officer has been accused of criminal conduct and we do not take this matter lightly.  The Minneapolis Police Department is committed to serving the City of Minneapolis with honor and integrity.  Unfortunately, these accusations distract from the professional service Minneapolis police officers provide each and every day in our community.  We have created a culture of accountability and have demonstrated when incidents occur that do not meet those standards, action is taken to hold individuals accountable.  We understand the community's desire for transparency and will provide as much information as possible once state law allows us to do so."
The Police officers' Federation of Minneapolis released this statement,
"Officer Hamilton has the full support of the Police Officers' Federation of Minneapolis during this trying time. We will have no further comment as this is an ongoing criminal matter." Lt Bob Kroll, President, Minneapolis Police Federation